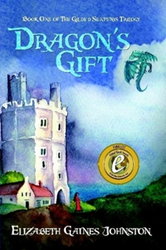 GRANADA HILLS, Calif. (PRWEB) February 24, 2016
An ancient evil threatens the kingdom of Princess Kwyleeana. After awakening from a coma, she befriends a dragon, Baelwyn, and soon learns of an impending war. She begins a journey across the lands in an effort to stop a vile prince from marrying her and destroying her kingdom in "Dragon's Gift: Book One of The Gilded Serpents Trilogy" (published by Lulu).
Author Elizabeth Gaines Johnston says she has always been inspired by the medieval period and its lore. "Starting with the phrase, 'in the realm of possibility,' I pursued the idea that such a realm, where all possible outcomes and lives could be lived, existed."
This first book of this trilogy establishes Princess Kwyleeana as a brave heroine who finds the world to be much larger and more magical than she previously thought. She comes to rely on the help from loyal friends. Through this, "Dragon's Gift" demonstrates the benefit of companionship.
Johnston wants her readers to know "belief in yourself and your abilities is the greatest magic of all, and can help you conquer many obstacles."
"Dragon's Gift"
By Elizabeth Gaines Johnston
Softcover | 6 x 9 in | 346 pages | ISBN 9781483427850
E-Book | 346 pages | ISBN 9781483427843
About the Author
Elizabeth Gaines Johnston has a love of the written word and a flair for the dramatic. She is the proud single mother of two sets of identical twin boys, a busy school volunteer and avid world traveler. Johnston and her family reside in southern California. This is the first book in the "Gilded Serpents Trilogy." More information is available at http://www.gildedserpents.com.
Lulu empowers people of all ages to explore and express their interests, passions and expertise through books, photography and art. Since introducing self-publishing in 2002, Lulu has empowered creators in more than 225 countries and territories to produce nearly two million publications. Lulu Jr. allows children to become published authors, encouraging creativity, strengthening literacy and building self-esteem. Picture.com offers professional photography of collegiate and professional sports, memorable and historic events, fine art and home décor. For more information, please visit lulu.com.