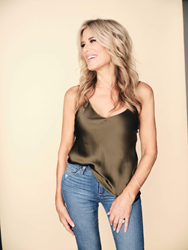 MALIBU, Calif. (PRWEB) September 13, 2021
The 2xU Malibu Triathlon Presented by Bank of America is excited to announce KOST 103.5 radio personality, Ellen K, as the host of its 34th annual event taking place at Zuma Beach in Malibu, CA on September 25 and 26. Ellen K joins Super League Triathlon athletes and recent Tokyo Olympic triathlon medalists Flora Duffy, Georgia Taylor-Brown, and Katie Zaferes, as well as celebrities including Chace Crawford, Eric Etebari, Daniela Ruah, Sean Dominic, and Alexi Papas, who are all competing to support the Pediatric Cancer Research Program at Children's Hospital Los Angeles (CHLA).
Ellen holds the distinction of being the first and only female to anchor a morning radio show with her solo namesake in Los Angeles radio history. The Ellen K Morning Show on KOST 103.5 is the top-rated morning show in Los Angeles and is nationally syndicated on 40 stations. Ellen, a long-time CHLA supporter and a member of its Foundation Board of Trustees, has hosted the hospital's Giving Tuesday fundraising event on KOST 103.5 for the past five years. To date, the annual broadcast, which features patient families, A-list celebrities, and local and national corporate sponsors, has helped raise more than $650,000 for CHLA.
Since it was established, the Malibu Triathlon has raised over $15 million to support the Pediatric Cancer Research Program at Children's Hospital Los Angeles. This year's event features a new, dynamic race format; the SLT Pro Race including the Eliminator challenge which tests the resilience, stamina and velocity of the athletes in a pressure-cooker environment where field position proves key over timing. The SLT Pro Race and the Olympic Distance (1.5K Swim, 40K Bike, 10K Run) race will each take place on Saturday, September 25, while the Classic Distance (½ Mile Swim, 17 Mile Bike, 4 Mile Run) will take place on Sunday, September 26. The Malibu Triathlon expects to welcome more than 5,000 participants and 10,000 spectators during the weekend event.
Registration is now open at https://malibutri.com/register/.
For event details and information on the Malibu Triathlon, visit https://malibutri.com/.
About Super League Triathlon
Super League Triathlon (SLT) is the world's fastest swim-bike-run Series, pitching the very best athletes against each other in quick and exciting race formats in fantastic destinations across the globe. The Championship Series takes place from August-November with the best triathletes on the planet doing battle over game-changing formats which are redefining the sport for a modern audience. Super League's SLT Arena Games is a dynamic new format that blends in real life and virtual racing to deliver an immersive viewing experience via a unique partnership with Zwift.
About Children's Hospital Los Angeles
Founded in 1901, Children's Hospital Los Angeles is the largest provider of care for children in Los Angeles County. Families travel from all 50 states and more than 90 countries so that their children can receive the very best care. The hospital's clinical teams treat patients ranging in age from newborn infants to young adults for everything from well-child visits to organ transplantation. It is ranked the top children's hospital in California as well as in the Pacific region, and fifth in the nation for clinical excellence by U.S. News & World Report in its prestigious Honor Roll of Best Children's Hospitals. Clinical care is led by physicians who are faculty members of the Keck School of Medicine of USC through an affiliation dating from 1932. It is home to the largest pediatric residency training program at a freestanding children's hospital of its kind in the western United States. Among the top 10 children's hospitals for National Institutes of Health funding, The Saban Research Institute of Children's Hospital Los Angeles leads the field in innovative bench-to-bedside basic, translational and clinical research conducted in pediatrics. To learn more, follow us on Facebook, Instagram, LinkedIn, YouTube and Twitter, and visit our blog at CHLA.org/blog
About Bank of America
At Bank of America, we're guided by a common purpose to help make financial lives better, through the power of every connection. We're delivering on this through responsible growth with a focus on our environmental, social and governance (ESG) leadership. ESG is embedded across our eight lines of business and reflects how we help fuel the global economy, build trust and credibility, and represent a company that people want to work for, invest in and do business with. It's demonstrated in the inclusive and supportive workplace we create for our employees, the responsible products and services we offer our clients, and the impact we make around the world in helping local economies thrive. An important part of this work is forming strong partnerships with nonprofits and advocacy groups, such as community, consumer and environmental organizations, to bring together our collective networks and expertise to achieve greater impact. Learn more at about.bankofamerica.com, and connect with us on Twitter (@BofA_News).
About 2XU
Founded in Australia in 2005, 2XU is a technical sports apparel company and a platform to help people chase their finish lines. The global leader in sports compression, 2XU compression is designed and tested in consultation with elite athletes, sports scientists and industry experts, and is backed by independent, scientific research by leading research teams. Sold globally, 2XU is the performance apparel brand of choice across endurance sports including triathlon, run and cycle, as well as the compression brand of choice for some of the world's best athletes and teams at all levels including basketball, football, soccer and baseball. 2XU helps athletes of all abilities prepare, perform, recover and repeat as they work toward their finish lines. With a heritage in endurance sports, 2XU is on a mission to help create a fitter and healthier world. For more information, visit http://www.2XU.com or follow 2XU on Facebook or Instagram.