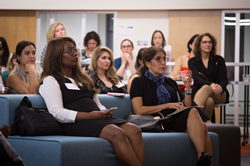 As women, we can band together to help each other succeed and get what we each deserve; and we know that the more women in leadership, the more we can have an effect on the rest of society.
NEW YORK (PRWEB) August 26, 2019
Ellevate Network, the leading community for women at work, is recognizing Women's Equality Day with the launch of #IDeserveIt, a well-timed campaign to invite women to take their careers into their own hands and demand what they deserve. August 26th is Women's Equality Day, and marks the 1920 certification of the 19th Amendment to the Constitution, granting women the right to vote. It's important to note that the passing of the 19th Amendment in practice primarily favored white women, and even with its passing, women of color continued to be discriminated against, unfairly taxed, and attacked at voting stations in many states.
The proclamation of women's right to vote was the culmination of a massive peaceful campaign started by women which was decades in the making. Women's Equality Day both celebrates this accomplishment as well as shines a light on the challenges women still face in our current world, and the efforts women and allies are making to reach true equality.
As part of #IDeserveIt, Ellevate Network will be hosting special events both in person through their more than 40 regional chapters and online through webinars and livestreams. These events are aimed at helping women create the future they deserve by taking actionable steps to reach their career goals.
"There's no denying that we've made progress since women received the right to vote, but there's also no denying that there is still a lot of work to be done before we can say there is true gender equality." said Kristy Wallace, Ellevate Network CEO. "We believe we won't achieve the change we want to see in our world if we don't start by taking control of our own professional lives. As women, we can band together to help each other succeed and get what we each deserve; and we know that the more women in leadership, the more we can have an effect on the rest of society."
Ellevate Network's #IDeserveIt campaign will feature the following webinars, all open to the public and free of charge:
9/10: #DriverSeat: How to Shift from Being a Passenger in Your Career
9/18: What You Should Know About Life Insurance (Prudential)
9/19: A Provocative and Necessary Conversation on Personal Development
9/24: Clarify Your Message: How to Answer the Question "What Do You Do?"
9/26: Interview Prep Bootcamp
To register for any of these webinars, click here.
Special in-person events this Fall include:
9/9 Imposter Syndrome and the Unrealistic Pursuit of Perfectionism [New York, NY]
9/10 Hogan Lovells and Ellevate Present: Finance, Markets and the Economy [New York, NY]
9/10 - 3rd Annual Speed Mentor Meetup [Seattle, WA]
9/17 Hot Topic Dinner: The Value of Mentoring [Dallas, TX]
9/17 Courageous Story Slam: Advancing Women of Color [New York, NY]
9/18 Univision and Ellevate presents Courageous Conversation: Being Future Ready [Doral, FL]
9/18 Networking: The Strategic Playtime for Professional Success [London]
9/18 Young Professionals Boot Camp | Assert Yourself & Use Your Voice at Work [New York, NY]
9/25 How to Successfully Deliver Your Message [San Diego, CA]
9/26 Ellevate Detroit Signature Event [Detroit, MI]
11/6 Inclusive Managers and Leading With Empathy: Capstone Event [New York, NY]
To register and for a full listing of all Ellevate events, click here.
To subscribe to the Ellevate Network newsletter and be notified of local events and online programming, sign up here. To become a member of Ellevate Network fill out your application here and use code IDESERVEIT for 20% off membership.
About Ellevate Network
Ellevate Network is a community of women at work committed to elevating each other through education, inspiration, and opportunity. We believe that when ambitious women get more opportunity — to have a voice in important conversations, to have a seat at the table where decisions are made, to steer our collective economic power towards that which we care about — it ultimately benefits everyone, and leads to a more equal world. We do this by providing these women with a community to lean on and learn from. Ellevate Network also works with companies committed to gender diversity and has a proven track record of changing business culture from the inside out.