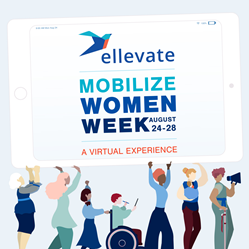 Mobilize Women Week will take place virtually between Monday, August 24th, 2020 and Friday, August 28th, 2020. The event is open to public, free to attend, and is accepting registrations.
NEW YORK (PRWEB) August 18, 2020
Ellevate Network is pleased to announce the speakers for the 2020 Mobilize Women Week, an event designed to bring together leaders in business, media, philanthropy and more to discuss some of the most pressing issues facing the world today - taking place August 24-28.
Created in 2017, Mobilize Women is a movement based on Ellevate Network's purpose of achieving equality for all, by giving diverse voices, and particularly those of women, a seat at the table where decisions are made.
Inspired by Ellevate Network's Mobilize Women Summit, and in an attempt to adapt to today's current challenges, this year's Mobilize Women will take place in the form of a multi-day experience designed as a space for authentic, courageous and fresh conversations. Through the course of five days and over fifteen sessions, attendees will hear thought-provoking discussions from diverse perspectives and leave with action-oriented solutions to tackle some of today's biggest challenges in the workplace and communities.
The list of speakers, moderators, and changemakers for Mobilize Women 2020 include:

Dr. Amitha Kalaichandra; Physician & Writer
Ara Tucker; SVP, Head of Talent and Culture Audible, Inc.
Caroline Fairchild; Editor at Large, LinkedIn News
Christine Hallquist; CEO, Cross Border Power; 2018 Vermont Democratic Governor Nominee
Courtney Connley; Careers Reporter, CNBC Make It
Janaye Ingram; Director of 21st Century Communities Initiatives, Airbnb
Jessamyn Stanley; Founder, The Underbelly Yoga
Karen Hao; Senior AI Reporter, MIT Technology Review
Kirsten Gillibrand; U.S. Senator (D-NY)
Kristen Kimmell; Head of Advisor Recruiting and Field Marketing, RBC Wealth Management – U.S.
Kristen Shaughnessy; Anchorwoman, NY1
Laurel Richie; Board Director; Synchrony Financial, Bright Horizons; President of WNBA 2011-2015
Linda Fried; MD, MPH, Dean, Mailman School of Public Health, Columbia University
Mabel Abraham; Assistant Professor of Management, Columbia Business School
Megan Smith; CEO, shift7; Former U.S. Chief Technology Officer (2014-17)
Michelle Nunn; President and CEO, CARE USA
Neil Blumenthal; Co-founder and co-CEO, Warby Parker
Dr. Nicole Cammack; Co-Founder and CEO, Black Mental Wellness Corp.
Paula Avila Guillen; Executive Director, Women's Equality Center
Roni Frank; Co-founder and Head of Clinical Services, Talkspace
Rumman Chowdhury; Ph.D.; Global Lead for Responsible AI, Accenture Applied Intelligence
Sallie Krawcheck; Chair, Ellevate Network; Co-Founder and CEO, Ellevest
Sandra Campos; Former CEO, Diane Von Furstenberg (DVF)
Sandra Phillips Rogers; Group Vice President, General Counsel and Chief Legal Officer, Chief Diversity Officer; Toyota Motor North America Inc.
Shaniqua McClendon; Political Director, Crooked Media
Wendy Gonzalez; President & Interim CEO, Samasource
Zahra Barnes; Executive Editor, SELF
Kristy Wallace; CEO, Ellevate Network
The 2020 Mobilize Women Week will cover a variety of topics including:

When Priorities Change
Mental Health: It's Okay to Not Be Okay
Human-Centric Policies and Cultures
The Changing Face of Business
Technology and Bias
Woman and Politics
Equal for All: Being Allies, Advocates, and Accomplices
In addition to the speakers who will be taking the virtual stage during the week, Mobilize Women Week will provide attendees the opportunity to network, reflect, and take action through other events such as Mentoring Meetups, local community chats and breakfasts, cocktail hours and masterclasses, and dedicated roundtables for variety of career stages as well as for allyship and managing your bias in the workplace.
Mobilize Women Week will take place virtually between Monday, August 24th, 2020 and Friday, August 28th, 2020. The event is open to public, free to attend, and is accepting registrations here.
The 2020 Mobilize Women Week is presented by Ellevate Network and RBC Wealth Management - U.S.; and is made possible with the generous support of Accenture, London Stock Exchange Group, Columbia Business School, Lincoln Financial Network, The Guardian Life Insurance Company of America, Unilever, M.M. LaFleur, BakerHostetler, and NFP.
There are still sponsorship opportunities available for Mobilize Women 2020 and 2021, and interested parties can contact Corporate@EllevateNetwork.com for more information.
More about Mobilize Women
Mobilize Women 2020 is open to public, free to attend, and is accepting registrations here.
To subscribe to the Ellevate Network newsletter and be notified of local events and announcements about Mobilize Women 2020, sign up here.
To learn more about the Summit from previous years, watch the highlight reel here. If you're interested in attending the event as media, please contact Nazli Tamer at Nazli@EllevateNetwork.com
About Ellevate Network
Founded in 1997 as 85 Broads, Ellevate Network is the largest community of women at work.
A powerful coalition of ambitious and supportive women who believe there is strength in numbers, Ellevate is built on the premise of showing up for each other, helping everyone — no matter their background or aspirations — build a career they love, and mobilizing the collective power of women to change the culture of business. Ellevate also works with companies committed to diversity and inclusion and has a proven track record of changing business culture from the inside out.