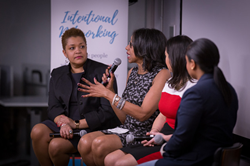 NEW YORK (PRWEB) March 26, 2019
International Women's Day celebrates the social, economic, cultural and political achievements of women. All around the world, women (and supportive men) will be showcasing the strength, power, and brilliance of womanhood and the strides that society has made toward equality across genders.
As the leading community of professional women committed to helping each other succeed, Ellevate announces three ways that the organization is celebrating International Women's Day and Women's History Month. On March 8, Ellevate published a white paper, Driving Equality in the Workplace, that serves as a resource to help companies guide their business culture toward an environment of inclusion and equality; throughout March, Ellevate's chapters will be screening the documentary, RBG, followed by panel discussions of women in leadership, to celebrate one of the foremost women in the country, Ruth Bader Ginsberg; and Ellevate announces the Building Inclusive Workplaces Program, designed to help managers and advocates bring lasting, sustainable change to their workplaces.
-- White Paper — Driving Equality in the Workplace, Part 1 --
Ellevate is proud to announce the release of a white paper, Driving Equality in the Workplace – Part 1 in honor of International Women's Day today. This report of best practices functions as a guide to steering business culture toward equality, and in turn, positive returns, employee satisfaction, and industry leadership. Ellevate developed this report from a series of roundtable discussions with corporate partners and leaders in business who value innovation, generating higher returns, and providing equal opportunity.
Diversity, inclusion, and equality are crucial, and the business case is clear – more diverse teams, and teams that effectively practice inclusion, drive better results. However, finding effective ways to bring about these changes can be challenging. That's why the Driving Equality in the Workplace report focuses on advice and actionable steps that individuals and organizations can take to move the needle toward equality. The report covers:

-- Getting Buy-In for the Business Case for Diversity
-- Struggling New Managers and the Challenges for Women
-- Advancing Women of Color
-- Building Confident Women Leaders Within Your Company
-- The Journey to an Inclusive Culture
This White Paper provides practical solutions to some of the business world's most persistent issues of inequality. Click here to download the report.
-- Women's History Month Screenings of RBG Documentary --
Ellevate's chapters nationwide are joining together this March to host special screenings of RBG, the Oscar-nominated documentary about the life of Ruth Bader Ginsburg. These screenings are designed to bring together women and their advocates in Ellevate chapters globally to learn more about RBG's life and path to influence in celebration of Women's History Month. As women role models are important to acknowledge and celebrate for all people, regardless of gender, each screening will include a discussion, panels, and/ or opportunity to network with others who believe in equality and are inspired by Ruth Bader Ginsburg's story. Register to attend at a chapter near you to learn more about the making of this American icon. Find a screening.
-- Building Inclusive Workplaces Program --
Changing the culture of business from the inside out is a key part of Ellevate Network's mission. Research shows that having women in leadership yields positive business results, yet the business world struggles to incorporate diversity and inclusion as a key part of their everyday operations.
On April 24th, Ellevate will launch their Building Inclusive Workplaces Program, specifically designed to arm Managers and Advocates (leaders with high social and political capital positioned to facilitate change) with the tools they need to bring lasting, sustainable change to their workplaces.
Ellevate will provide a series of events and aligned content (live webinars, content packages, and podcasts) through the Building Inclusive Workplaces program. The program, which will culminate in a capstone event in NYC in November 2019, includes:
-- Inclusive Manager Training - Managers have an extremely important role in creating the culture of companies – people don't leave jobs, they leave managers. Through Ellevate's work with leading companies, they have learned that building a leadership pipeline of managers who prioritize inclusivity is the key to organizational change. This series is designed to help your company develop managers who value diversity and inclusion and make it a part of the fabric of your culture — so it's there for good.
-- Leading with Empathy Series - People who make organizational change happen are those who can effectively think outside of their own experience. The only way to create an environment where people like this succeed is to be very explicit about how privilege affects workplaces and embrace diversity through action. This event series focuses on providing the LGBTQIA community, women, and people of color a safe space to share their stories, discuss challenges and for us to redefine management to increase the importance of empathy in leadership — setting the framework for a supportive work environment that lasts. Ellevate is choosing to target Advocates with this series — leaders with high social and political capital who are well positioned to influence the environment in which they live and work. This series is set up to feature other populations of people that are too often negatively affected by bias at work (e.g., people with disabilities, those from historically underserved populations, people affected by ageism and other implicit bias, and more).
-- Inclusive Managers Lead with Empathy Capstone - Building a culture of inclusivity requires strong leaders who can put themselves in others' shoes and who understand that being an advocate is not an option-- it's the only way to achieve true equality. In this capstone event, Ellevate will combine the Inclusive Managers Training with the Leading with Empathy Series to assess the impact of Ellevate's programming so far and convene to celebrate the success stories that come from the real-world application of the organization's ideas and best practices.
For a calendar of upcoming Building Inclusive Workplaces events, and more about the program, click here.
About Ellevate Network
Ellevate Network is a community of professional women committed to helping each other succeed. We believe that when ambitious professional women get more opportunity — to have a voice in important conversations, to have a seat at the table where decisions are made, to steer our collective economic power towards that which we care about — it ultimately benefits everyone, and leads to a more equal world. Ellevate also works with companies committed to diversity and inclusion and has a proven track record of changing business culture from the inside out.