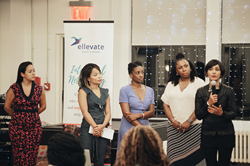 By sharing your voice, others will gain strength from you; your story matters, whether you realize it or not.
NEW YORK (PRWEB) November 25, 2019
Ellevate Network, the leading community for women at work, announces the launch of its newest campaign in honor of International Women's Day and National Women's History Month called Raise Her Voice: Untold Stories of Women in the Workplace, a special initiative focusing on the personal stories of women within the Ellevate community. March 8th is International Women's Day and is a globally recognized day honoring the various achievements of women, as well as a call to action for moving the needle on gender equality. Since 1987, March is recognized as National Women's History Month celebrating the accomplishments of American women.
Ellevate Network strives to present itself as a platform for well-deserved, yet underheard voices. Throughout November, women and active allies will be encouraged to nominate themselves, or another woman in their life, to share their remarkable and compelling stories of triumph, tribulation, and adventure with others in their local communities. Through January, people who are a part of the Ellevate community will be encouraged to share and vote on their favorite stories. Women with the highest votes will be asked to speak at a local Raise Her Voice story slam.
Through the Raise Her Voice initiative, Ellevate will provide the opportunity for women to tell their story in over 20 cities throughout the month of March including Boston, Charleston, Chicago, Dubai, Fairfield and Westchester Counties, Houston, Long Island, Los Angeles, Madrid, Nashville, New York, Philadelphia, Phoenix, Pittsburgh, San Diego, San Francisco, Seattle, Toronto, Twin Cities, and Washington D.C.
"Through my work at Ellevate -- the podcast, meeting members, attending events -- I hear a lot of stories from women in the workplace. Stories about grit, innovation, failure, success, inequalities, and allies. Every story makes me stronger." said Kristy Wallace, Ellevate Network CEO. "There is power in learning from others and even more power in having your voice heard and in knowing that there is space for your story. By sharing your voice, others will gain strength from you; your story matters, whether you realize it or not. We hope that through Raise Her Voice, more women will support each other in creating change through storytelling."
To nominate yourself or another woman in your life, please submit a form here. Please note, the voting process will begin in mid-December.
To stay up to date about the winners of the Raise Her Voice campaign or when local events become scheduled in your city, sign up here.
About Ellevate Network
Ellevate Network is a community of women at work committed to elevating each other through education, inspiration, and opportunity. We believe that when ambitious women get more opportunity — to have a voice in important conversations, to have a seat at the table where decisions are made, to steer our collective economic power towards that which we care about — it ultimately benefits everyone, and leads to a more equal world. We do this by providing these women with a community to lean on and learn from. Ellevate Network also works with companies committed to gender diversity and has a proven track record of changing business culture from the inside out.