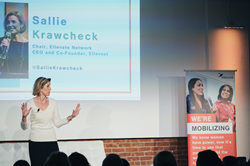 Ellevate Orange County is focused on creating value and impact in our community.
COSTA MESA, Calif. (PRWEB) February 13, 2020
Ellevate Network, the nation's leading community for women at work, celebrates the Orange County Chapter's 3rd Anniversary on Wednesday, February 19th with a fireside chat event featuring Sallie Krawcheck, Chair of Ellevate Network and the CEO and Co-Founder of Ellevest, a digital-first, mission-driven investment platform for women.
With more than 40 chapters globally, Ellevate provides ambitious professional women with local opportunities to connect with one another to expand their network and develop their professional skills.
The fireside chat event will be held at the Avenue of the Arts Hotel in Costa Mesa, California and it will be an inspiring evening with intentional networking, light refreshments, and door prizes. The Chapter is grateful for the support of the local business community. Attendees will have the opportunity to meet high achieving professional Orange County women, discuss important tips for personal and professional success.
Ellevate Network CEO Kristy Wallace said, "Ellevate's community is full of change-makers in communities, businesses, and the world. Ellevate's community has a depth and authenticity that is unique and I'm thankful to the Orange County Chapter, especially the chapter leadership team, for making the Ellevate community stronger."
Before launching Ellevest, Krawcheck built a successful career on Wall Street: She was the CEO of Merrill Lynch, Smith Barney; US Trust; Citi Private Bank; and Sanford C. Bernstein, and CFO for Citigroup. Krawcheck has been called one of the top 10 up and coming entrepreneurs to watch by Entrepreneur Magazine, has landed on Vanity Fair's "The 2018 New Establishment List" and is considered one of the "Most Influential People in ESG Investing" by Barron's.
Judith Lukomski, Ellevate Orange County Chapter President and Chief Evolution Officer of Transitions Today, will be moderating the fireside chat. Judith shared, "We are thrilled to have trailblazer and industry innovator Sallie Krawcheck share her insights with the Chapter. Ellevate Orange County is focused on creating value and impact in our community. The growth of our diverse and inclusive group speaks to our commitment to accelerate women in leadership and ensure workplace equity."
Debra Fitts, Chapter Treasurer and Director of State & Local Government and Public Education at American Express said, "Ellevate Orange County hosts compelling topical events and offers opportunities to build meaningful relationships. Our members are a diverse group of professional women, not only from an industry perspective but also from a demographic and age perspective."
Kerry Corriveau, Chapter Marketing Lead and General Manager at Personnel Concepts recalls her experience with Ellevate. "I found Ellevate Orange County at a time of major transition for me professionally. I was attracted by their stated mission to eliminate the gender wage and achievement gaps. I stayed for the community and support."
Details for the event: Wednesday, February 19th, 5:45-8:00 pm PST at the Avenue of the Arts Hotel | 3350 Avenue of the Arts | Costa Mesa, CA. Tickets are $35 for members and $55 for non-members.
To register, click here. For more information about this event, contact the Ellevate Orange County Chapter at: orangecounty@ellevatenetwork.com.
About Ellevate Network Ellevate Network is a global network of professional women committed to elevating each other through education, inspiration, and opportunity. We believe that when ambitious professional women get more opportunity — to have a voice in important conversations, to have a seat at the table where decisions are made, to steer our collective economic power towards that which we care about — it ultimately benefits everyone and leads to a more equal world. We do this by providing women with a community to lean on and learn from. Ellevate also works with companies committed to gender diversity and has a proven track record of changing business culture from the inside out.