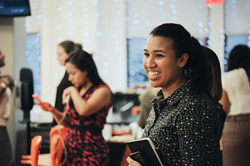 "We are committed to going above and beyond to meet the needs of our community during these unprecedented times."
NEW YORK (PRWEB) April 07, 2020
Ellevate Network, the leading community for women at work, has announced a new cycle of its Squads program, focused on Leading Through Uncertainty, amid the novel coronavirus outbreak. The innovative online program which helps professional women develop leadership skills, troubleshoot possible setbacks, and take steps to achieve their career goals, will accept applications until April 23, with the 12-week program set to start on June 8.
"We are committed to going above and beyond to meet the needs of our community during these unprecedented times," said Kristy Wallace, CEO of Ellevate Network. "We have introduced the new cycle of Squads for women everywhere, regardless of what they may be going through, who are looking to build relationships and find clarity as we all navigate the unknown. The pandemic has made the need for strong leadership clearer than ever, and we cannot wait to see Squads alumnae turn the crisis into an opportunity."
Ellevate Squads are small, diverse groups of women at similar points in their career.
The twelve-week program allows participants to prioritize their future as they spend 30 minutes each week video conferencing with driven, intelligent and supportive women. Squads allows participants to give and receive feedback, find new ideas, and instills confidence to achieve personal and professional goals. This particular cycle on Leading Through Uncertainty will focus on the challenges participants may be facing due to the personal and economic impacts of the pandemic including building a business in uncertain times, navigating a corporate environment that's largely susceptible to the economic swings, and reentering the workforce.
After a successful launch in October 2017 and six program cycles completed, the Ellevate Squads program has proven to provide tangible value to women in the Ellevate community. The hand-picked groups are designed for members based on specific criteria, such as meeting women in their local region, those with similar career goals and challenges, those outside their usual work environments. Among past participants, 70% of women have a positive or very positive outlook on their career after completing the Squads program and 73% say their squad gave them ideas, tools, and resources that they didn't have before. Nearly half of women who participated reported that the program gave them the opportunity to mentor and support other women.
Women in the program have said:

"The relationships you make in your Squad do not have to end when the meetings do; I still meet in person or online with some of the women from my first Squad and I plan to do the same with the second Squad I joined." Read more from Kara here.
"My career is my life, or my ikigai (a Japanese concept that means "my reason for being"). Participating in Squads has helped me become more open and less shy, which has has a positive impact on me everyday." Read more from Yansi here.
"Connecting with others outside your normal circle is one of the best things you can do to get a truly unbiased and outside-in perspective. Your Squad mates may certainly not understand all of the players in your story or challenge, but their advice can sometimes be that push that you need to move forward." Read more from Sarah here.
Ellevate Network is also offering Corporate Squads, 12-week program for employees who will collaborate, mentor, and support each other in career and leadership development. Making up for the lack of in-person touch points, Corporate Squads are designed to help businesses drive employee engagement, motivation, and morale while encouraging virtual cross-team collaboration. More information can be requested here.
Applications for Ellevate Squads are currently open and will close on April 23. Squads will start meeting the week of June 8. Applications can be submitted here.
About Ellevate Network
Ellevate Network is a community of professional women committed to helping each other succeed. We believe that when ambitious professional women get more opportunity — to have a voice in important conversations, to have a seat at the table where decisions are made, to steer our collective economic power towards that which we care about — it ultimately benefits everyone, and leads to a more equal world. Ellevate also works with companies committed to diversity and inclusion and has a proven track record of changing business culture from the inside out.