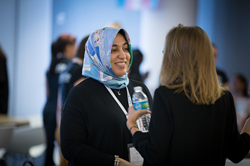 "CIBC's commitment to helping the professional women in their organization develop the skills they need to succeed sets a strong example in the industry. We're happy to be a part of their community of professional women to lean on and learn from."
NEW YORK (PRWEB) May 09, 2019
CIBC U.S. joins the elite organizations already working with Ellevate Network to help provide expanded opportunities for women. CIBC is a leading North American financial institution and provides tailored commercial, wealth management, personal and small business financial solutions, as well as cross-border banking services to clients with North American operations.
Through this partnership, CIBC's female employees will have the opportunity to form meaningful connections with other ambitious professional women in the Network, gain access to Ellevate's tools and resources, including webinars, articles and podcasts, and build and hone the skills needed to advance their careers. CIBC will also be sponsoring three Ellevate networking events in their offices in NYC, Boston, and Chicago for CIBC employees and Ellevate members.
"Partnerships with organizations like Ellevate Network help us create opportunities for women at CIBC to develop their unique skills and talents," said Vicki Znavor, Chief HR Officer, CIBC U.S. "We believe this partnership supports our mission of creating an environment where each employee can bring her authentic self to work."
"We are very pleased to have CIBC U.S. as a new corporate partner," said Kristy Wallace, CEO, Ellevate Network. "CIBC's commitment to helping the professional women in their organization develop the skills they need to succeed sets a strong example in the industry. CIBC understands the value of inclusion and advancement of women in the workplace, and the crucial role of corporate organizations in boosting the careers of their female employees. We're happy to be a part of their community of professional women to lean on and learn from."
About Ellevate Network
Ellevate Network is a community of women at work committed to elevating each other through education, inspiration, and opportunity. We believe that when ambitious women get more opportunity — to have a voice in important conversations, to have a seat at the table where decisions are made, to steer our collective economic power towards that which we care about — it ultimately benefits everyone, and leads to a more equal world. We do this by providing these women with a community to lean on and learn from. Ellevate Network also works with companies committed to gender diversity and has a proven track record of changing business culture from the inside out.
About CIBC
CIBC is a leading North American financial institution with 10 million personal banking, business, public sector and institutional clients. CIBC offers a full range of advice, solutions and services in the United States, across Canada and around the world. In the U.S., CIBC Bank USA provides commercial banking, private and personal banking and small business banking solutions and CIBC Private Wealth offers investment management, wealth strategies and legacy planning. Visit us at cibc.com/US.