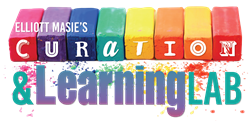 "Curation is the critical ability to get the Right Content in the Right Format to the Right Employee at the Right Time." - Elliott Masie
SARATOGA SPRINGS, N.Y. (PRWEB) November 20, 2019
Curation is: the critical ability to get the Right Content in the Right Format to the Right Employee at the Right Time!
Curation is: the process of finding, sorting, organizing, rating, ranking, recommending, validating, clearing, tracking, and personalizing learning resources.
Curation is: essential in the era of more content, more context, more resources, more sources, and more complexity. For today's learners, there are so many choices, yet so little curation!
Elliott Masie leads his popular Curation & Learning LAB from December 4-6 at the 10,000 square foot MASIE Learning LAB in Saratoga Springs, NY. Elliott will host a small group of learning colleagues from a wide range of industries around the world, deeply exploring, experimenting, assessing, and deploying a range of curation strategies in this 2 ½ day intensive exploration and lab experience.
Curation & Learning LAB topics will include:

Curation: The Right Resources at the Right Moment!
Curation for Learning: Why, How, Models & Strategies
Curation Tools: Leveraging Learning and Content/Communication Systems
Why Most LMS Systems Ignore Curation
Curating Internal Content as it is Created
Curating External "Open" Content
Role of Automation & AI in Curation
Personalization of Curation: By Role, Style & History
Curation of User-Created Content & Collaboration
Curation & Compliance: Keeping it Legal & Safe
On-The-Job Training & Workflow Support Curation
The Learner as Curator?
LinkedIn & Other Curation Content Collections
"Recommendations" (Rankings, Ratings & Advice)
Curation Skills for Learning Professionals
Governance of Curation
"Fake News", "Truth Testing" & "Screening"
Curation for Transfer: Learning at the Moment of Need
Machine Learning & AI for Curation: The Future
Building a Curation Taxonomy: Tags, Key Words & Sorts
The Librarian as a Curation Model
Curation Goals: Targeting, Transparency & Optimizing
Mapping Curation to Current Design Models (e.g. ADDIE)
Curation for Global and Diverse Workforces
Curiosity-Based Curation: Siri, Alexa & More
The Learner as a Curator: UserExperience View
Registration is open and some spaces remain for the Curation & Learning LAB, taking place December 4-6 in Saratoga Springs, NY!
Please go to https://www.masie.com for Registration and Information.