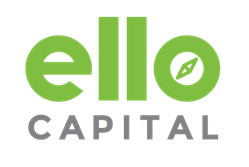 ELLO Capital is staffed by bankers and M&A advisors, who combine cannabis industry knowledge with experience in finance and investing, proficiency in transaction structuring and execution, and an extensive network of lenders and investors from Wall Street to Silicon Valley.
LOS ANGELES (PRWEB) July 23, 2019
The MGO | ELLO Alliance, a leader in providing accounting and consulting services to the cannabis industry, has announced the launch of ELLO Capital: a boutique investment bank and M&A advisory firm focused on empowering client growth and strategic thinking throughout every stage of the cannabis industry lifecycle.
"Cannabis is an emerging industry that has been historically underserved by U.S. investment banks. As the sector evolves and matures, access to capital is an increasingly pressing need for companies ready to reach the next phase of growth," said Evan Eneman, CEO of the MGO | ELLO Alliance and CEO of ELLO Holdings. "ELLO Capital is uniquely positioned to fill that void and deliver financial and transaction guidance. Our goal is to help clients take full advantage of transformative growth opportunities amid complex market conditions."
ELLO Capital is staffed by bankers and M&A advisors, who combine cannabis industry knowledge with experience in finance and investing, proficiency in transaction structuring and execution, and an extensive network of lenders and investors from Wall Street to Silicon Valley. Through services focused on capital raising and strategic M&A, ELLO Capital provides a foundation of traditional financial proficiency for those navigating risk and opportunity in the rapidly growing cannabis industry and its impact to established companies.
Leading ELLO Capital is CEO and Managing Director Hershel Gerson. A veteran of the investment banking industry, Gerson has over 20 years of experience in capital raising, M&A and private equity, having closed more than 55 transactions worth over $30 billion. Before joining ELLO Capital, Gerson led Macquarie Capital's consumer coverage efforts focused on the food & beverage, HPC, and restaurant sectors.
"Today's M&A and financing decisions are shaping the future of cannabis, as witnessed by deals like the Canopy Growth-Acreage transaction, the Green Growth Brands and Moxie merger and the Curaleaf acquisition of Grassroots," said Gerson. "ELLO Capital helps cannabis companies make responsible, sustainable decisions as they establish strategic partnerships, raise capital through debt or equity issuances, and acquire promising companies to build leading cannabis enterprises."
The leadership team at ELLO Capital includes several seasoned executives with deep experience providing investment banking and M&A advisory services to companies across a broad range of industries.
Jacqueline Bennett serves as a Director in the East Coast practice based in New York City. Bennett joined from J.P. Morgan's Investment Bank in New York where she most recently advised early stage disruptive companies on private placement, M&A and IPOs. Jacqueline has over 15 years of experience across multiple geographies and disciplines, including merchant banking, tech start-ups and private equity advisory.
Dan Nicholls, CFA, serves as Director of ELLO Capital, and is based in Los Angeles. Dan brings 10 years of investment banking, venture capital and financial advisory experience, including the last four years focused exclusively on the cannabis industry, during which he has advised hundreds of cannabis companies on capital raises, M&A and various financial transactions. He previously served as a Vice President at MJIC, one of the cannabis industry's first venture funds.
Gerson's team at ELLO Capital also boasts seasoned industry veteran Danny Hurwitz, Managing Director and Head of Capital Markets and Syndications, a Wall Street investment professional with over 24 years of experience at firms like Goldman Sachs, Robertson Stephens and BTIG. Hurwitz had been independently advising in cannabis for the past few years before joining the ELLO Capital team.
"We see ELLO Capital serving as a bridge between the cannabis industry – including sub-sectors hemp, CBD and ancillary cannabis – and investor groups and companies interested in testing the waters but who are not familiar with the nuances of this emerging sector," continued Gerson. "Our team's experience on both sides helps us navigate risk, uncover genuine value, and facilitate favorable transactions."
The launch of ELLO Capital follows the release of the MGO | ELLO Cannabis Private Investment Review, an industry-first publication powered by data from PitchBook Data, Inc., which analyzes venture capital and private equity activity, and other key trends affecting the cannabis sector.
"The report revealed unprecedented milestones in the industry," says Evan Eneman. "VC investment in cannabis reached nearly $1.3 billion in the first half of 2019 with the majority of that investment in the U.S. With our headquarters in California, the world's largest cannabis market, and our East Coast practice located in New York City, a global financial center, we offer coast-to-coast support for clients seeking to access the growth potential for industries impacted by cannabis."
About ELLO Capital
ELLO Capital is a boutique investment banking and M&A advisory services firm focused on guiding clients and investors in cannabis and related industries through rapidly developing cannabis market opportunities. ELLO Capital has offices in Los Angeles and New York City, where they provide capital raising expertise, strategic M&A guidance, proprietary industry perspectives, and a full suite of complementary professional services.
ELLO Capital is the investment banking arm of the ELLO cannabis business ecosystem; which delivers banking, advisory, branding, market research and venture services. Alongside a global network of entrepreneurs, investors, and institutions, ELLO is working to model a responsible, sustainable future for cannabis.
Broker dealer activities and securities transactions offered by ELLO Capital associated persons are conducted in their capacities as registered representatives of SDDco Brokerage Advisors LLC MEMBER: FINRA / SIPC ("SDDco-BA"), which is located at 485 Madison Avenue 15th Floor New York, NY 10022. (212) 751-4424. ELLO Capital and its affiliates are independent and unaffiliated with SDDco-BA.