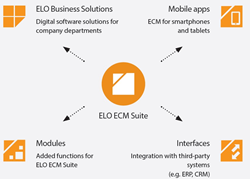 Supporting work-from-home and work-from-anywhere business models, the ELO ECM Suite continues to evolve with comprehensive capabilities for information management.
BOSTON (PRWEB) November 10, 2020
ELO Digital Office USA, enabling businesses to improve collaboration and digitize information management, announced the availability of the new ELO ECM Suite 20 in 18 languages to better serve a global community of ELO ECM users in more than 40 countries. This new version also features a completely redesigned user interface, new clients, improved performance, and extensions such as the ELO Integration Service – all aimed at improving business productivity and enhancing the user experience wherever business is conducted.
A Personalized ECM System – Anytime - Anywhere
The new ELO ECM Suite 20 features a major update to the user interface providing faster access to the functions used most frequently. This personalization level is easily customized via the new Favorites menu item, enabling users to create their own personal ECM system. Additional enhancements include:

ELO Integration Service enables direct integration with third-party ERP and CRM applications such as SAP® Business One and Salesforce.
ELO Desktop Client integrated as a dynamic sidebar supports a range of clients such ELO Java Client, ELO Web Client, and ELO Workflow Client.
Enhanced Performance with up to 20 percent increased speed on the server-side for faster data availability.
Health Check Service monitors the system's state and reports irregularities or errors in a timely manner.
ELO Smart Input automatically classifies documents and extracts all relevant content in seconds.
Sophisticated Security encryption technology with up to two million possible encryption keys helps meet legal requirements for data storage while ensuring safe remote working.
"ELO 20 is as an exciting new version of our ECM Suite – the timing of which could not have been better given the rise of work-from-home and work-from-anywhere business models," said Szilvia Horvath, president and CEO of ELO Digital Office USA. "The platform continues to evolve with comprehensive capabilities for information management while offering enhanced ease-of-use, security, performance, and integrations to third-party apps – all of which increase the value that ELO ECM delivers to users worldwide."
About ELO Digital Office USA
ELO Digital Office USA provides innovative digital content management solutions for organizations of all sizes and industries throughout the United States. The ELO ECM Suite comprised of ELOprofessional and ELOenterprise gives businesses an electronic and secure way to easily capture, archive, and manage business documents and information – both paper-based and digital. A subsidiary of ELO Digital Office GmbH (founded in 1998), ELO USA is headquartered in Boston, MA, and is part of a network of global ELO offices throughout Asia, Australia, Europe, and North and South America. Visit ELO USA. Follow us on LinkedIn and Twitter.
All product and service names mentioned herein are the trademarks of their respective owners.