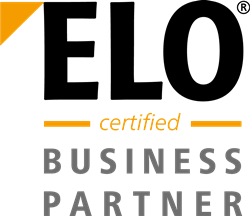 Giving our customers the ability to access and control their information anytime – anywhere is key to their survival and success
BOSTON (PRWEB) June 02, 2020
ELO Digital Office USA, enabling businesses to improve collaboration and digitize information management, announced that Stratocent Technologies is now an ELO Business Partner. Headquartered in the Pacific Northwest yet serving all regions throughout the United States, Stratocent will add the ELO ECM Suite to its solution portfolio of IT, security, cloud, VOIP, and business continuity services. Stratocent, which is a member of The 20 for MSPs, joins a global network of more than 1000 ELO Business Partners reselling ELO ECM solutions.
ELO Supports 24/7/365 Information Management Needs
"The new normal has created a new way of working in which the eight-to-five workday is a thing of the past," noted Jim Bauchaud, CEO of Stratocent. "Working from home is here to stay, and increasingly businesses are operating on a 24/7/365 basis. Therefore, giving our customers the ability to access and control their information anytime – anywhere is key to their survival and success. ELO enables that success with comprehensive and easy-to-use tools for efficient, reliable, and secure information management, and we're thrilled to offer ELO to our customers."
ELOprofessional for mid-sized companies and ELOenterprise for large corporations comprise the award-winning ELO ECM Suite for information and document management. In addition to content management, the ELO ECM Suite integrates with leading CRM and ERP systems while giving the WFH workforce capabilities for collaboration, data security, and compliance. These capabilities are enriched by business-specific add-ons that digitize, automate, and analyze day-to-day business processes such as:

Contract Management
Email Management
HR Recruiting
Invoice Management
Knowledge Management
Records Management
"Now, more than ever, companies must adapt to changing times, and the digitalization of all documents and information is a must-have for businesses to succeed," said Szilvia Horvath, president and CEO of ELO Digital Office USA. "We are delighted to have Stratocent as an ELO Business Partner as they are not only an expert MSP – they know how to help companies evolve to stay competitive. They will be instrumental in advancing ELO's continued adoption in the US."
About ELO Digital Office USA
ELO Digital Office USA provides innovative digital content management solutions for organizations of all sizes and industries throughout the United States. ELOoffice, ELOprofessional, and ELOenterprise give businesses an electronic and secure way to easily capture, archive, and manage business documents and information – both paper-based and digital. A subsidiary of ELO Digital Office GmbH (founded in 1998), ELO USA is headquartered in Boston, MA and is part of a network of global ELO offices throughout Asia, Australia, Europe, and North and South America. Visit ELO USA. Follow us on LinkedIn and Twitter.
About Stratocent Technologies
A Managed Service Provider (MSP) based in the Pacific Northwest, Stratocent serves the greater United States. In a culture of the latest technology, we strive to stay on the cutting edge of usability and workability, ensuring our customers can focus on what they are passionate about. With a proactive approach, we're able to monitor and maintain your IT infrastructure 24/7/365 – and if a problem does arise, our team can quickly resolve it; in many cases before you're even aware of an issue. Visit Stratocent Technologies. Follow us on LinkedIn and Twitter.
###
All product and service names mentioned herein are the trademarks of their respective owners.