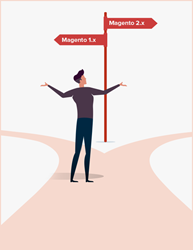 Migrate your Magento Store To the latest version i.e.,2.3.2 and see the amazing transformation yourself
FREMONT, Calif. (PRWEB) July 18, 2019
Magento has become the ultimate option for eCommerce businesses due to the flexibility and affordability it provides to eCommerce deployments. Due to its free community edition and a relatively small learning curve, we are seeing thousands of eCommerce businesses taking advantage of its adaptability and ease of use. Keeping abreast with the recent trends, Elsner Technologies, one of the prominent Magento development company, has successfully carried out more than 150 Magento 1 to Magento 2 store migration since the time of its inception. You can reach out us to get Magento 2 migration services for your magento 1 store.
Before we move forward, it is essential to look at the various details on Magento 2, which makes it the most effective eCommerce store technology in recent times.
Reasons that Make it Essential to Migrate from Magento 1 to Magento 2
Magento 2 came into existence in the year 2015. But, there are still certain online businesses that are adamant on continuing with Magento 1, which is a big mistake. Store owners feel that there is a threat looming around when it comes to migrating to Magento 2. Reason? They are mostly concerned about data loss. Rest assured, our Magento developers have already migrated lots of Magento 1 to Magento 2 stores in an effortless manner with utmost data security.
Our Magento developers are highly skilled and adept in learning upcoming trends coming up in Magento 2. This helps them to take advantage of their knowledge of this migration in the smoothest of manners.
The need for migration is highly essential. Reason? Magento 1 support services will cease to exist by June 2020. This is exclusively for those online store owners who have licenses that are extended to align with that date.
Earlier this date was in November 2018 but has been extended. Remember, only selected Enterprise clients will have the privilege of a two-year support extension. Is it possible for you to ignore this fact? It is extremely risky to run unsupported software, especially when it is an essential part of the operation. This is one amazing reason to migrate to Magento 2. If you are still not satisfied, look at the other reasons below.
Other prominent reasons being:
1. Since November 2018, patches are not being produced for the original Magento versions.
2. The company has also stopped adding new features in Magento 1.
3. The day is not far when Magento 1 will be at risk to breaches and hacks as the code becomes outdated. This will result in fines, breach of trust, and revenue loss.
4. Any eCommerce business that migrates from Magento 1 to Magento 2 will have an added advantage over those businesses that do not.
Some of the eye-opening statistics related to the Magento platform have been mentioned below.
1. There are in all 254,773 websites using Magento platform and an additional 687,156 sites that used Magento historically
2. It has been found that 56801 websites are currently using Magento 2 platform and an additional 70,588 sites have already used Magento 2 historically.
3. Magento 2 provides 50% faster page loads than Magento 1 with a 38% faster checkout process and 135,000 more orders.
4. According to a report from Built with, 44% of the world's online stores that are using Magento 2 are located in the US.
5. Magento 2 processes 28% more orders on an hourly basis, reaching 597 orders per hour.
All these statistics show that Magento 2 migration is the way to go for the future of your online store.
Let's now look at some of the advantages of Magento 2.
Privileges of Magento 1 to Magento 2 Migration :
Magento 2 is an advanced version of Magento 1. Hence, it is bound to be enhance flexibility and functionality during the Magento development of the new version Once online businesses see what it can offer chances are they will not think twice before migrating to Magento 2. Let's look at some of the benefits given below:
1. A time will come when Magento 1 will become out of development, and the entire focus will be on Magento 2. This includes the development of third-party extensions. So, if you are an online business that is still using Magento 1 chances are you will be left with no extensions that will be a significant loss for your online store.
2. As a store owner, you will have the most modern extensions at your disposal. The amazing part is, all these extensions will be available in Magento 2 marketplace, which will be reviewed and approved by Magento developers. This will there will be fewer chances of bugs.
3. The core code in Magento 2 has become better and expanded which will result in excellent customer experience. Magento 2 is a shade better when it comes to loading time, which can have a drastic effect on conversions. On top of this, the checkout process is more straightforward and is loved by customers across the globe.
4. There has been a drastic improvement in Magento 2. Now the admin can check the listing with the help of staging and preview feature before it goes live. Due to a proper streamlined process, it would become easier to manage your catalog, which will, in turn, save you precious time.
5. There are updated tools, languages, and technologies like MySQL clustering, full-page caching, PHP 7, and much more. This is a blessing in disguise for Magento stores as they can now utilize modern technologies to make their online store future-proof!
Now, that you have looked at the benefits of Magento 1 to Magento 2 migration, it is time to look at the different points that make Elsner Technologies your ideal partner for conducting the migration process.
What Makes Elsner Technologies Your Ideal Magento 1 to Magento 2 Migration Partner?
Elsner has expanded the scope of growth with this partnership. Magento Community Insider Partner at an official level. Let's now look at some of the prominent reasons that make Elsner Technologies your ideal Magento 2 Partner:
✓ We update Magento master database with products, orders,and customers :
We first download your Magento database to our host we are using for testing purposes. Then we go for the upgrade, fixing issues related to a database including updating the master database with products, orders, and customers.
✓ We fix any bugs or errors encountered during the migration process :
There are times when we are able to find out bugs or errors related to the Magento eCommerce store. We try to resolve this by fixing the errors or bugs promptly so that you do not encounter the same problems after migrating to Magento 2.
✓ We resolve incompatibility issues of store theme transition in a prompt manner :
If there are any incompatibility issues related to store theme transition, we try to correct it promptly so that once the migration to Magento 2 is successful your eCommerce online store is visible to the target audience on each and every platform.
✓ We upgrade or install any extension you purchased from us :
This is a blessing in disguise for you as we not only help you migrate from Magento 1 to Magento 2 but also provide upgradation or installation of any extension you purchased in the past from us. It is a great feature provided by us.
✓ We provide third party extensions upgrade which is connected to your store :
With the successful migration from Magento 1 to Magento 2 eCommerce store we also offer third-party extensions upgrade which is connected to your store to ensure that you are able to take the maximum advantage of your Magento eCommerce store.
Avail Magento 1 to Magento 2 migration services or Magento upgrade service from Elsner Technologies today and make your online store reach a new pinnacle of success!