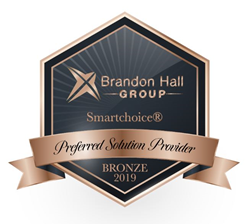 The market calls for solutions that can transform content production and support learning engagement – Elucidat meets this need.
DELRAY BEACH, Fla. (PRWEB) September 25, 2019
Brandon Hall Group confirms that Elucidat is living their mission, by enabling their clients to create, manage and measure high-quality elearning, that delivers a real-life impact on personal development and business performance.
"Elucidat is an organization with a continuing commitment to leading the way in delivering world-class solutions." said Michael Rochelle, Chief Strategy Officer and Principal HCM Analyst at Brandon Hall Group. "The market calls for solutions that can transform content production and support learning engagement – Elucidat meets this need."
The analyst team at Brandon Hall Group has spent years better understanding Elucidat as well as the market they operate. The team has conducted in depth briefings with the product teams, reviewed case studies and collected customer feedback to certify they deliver upon their message.
The program provides a world-class membership center for knowledge, resources and advisory support to the entire organization. During this time Brandon Hall Group conducted a full review of Elucidat product/service messaging and website, collateral marketing material and social media strategy.
"Our vision has always been to give everyone the power to produce quality digital learning that makes a real difference - this sits right at the heart of our business and platform development" said Simon Greany, CLO and Founder of Elucidat. "We're delighted and honored to have received this recognition from Brandon Hall. It's an exciting milestone in our mission to make people-centered learning a reality."
Brandon Hall Group has consistently been the leading independent analyst firm and confirms that Elucidat offerings measurably benefit the organizations they work with.
To learn more about Smartchoice® preferred vendors or to become one, please visit http://www.brandonhall.com/solution_providers.php.
---About Brandon Hall Group Inc.
Brandon Hall Group is an HCM research and advisory services firm that provides insights around key performance areas, including Learning and Development, Talent Management, Leadership Development, Talent Acquisition and HR/Workforce Management.
With more than 10,000 clients globally and 25 years of delivering world-class research and advisory services, Brandon Hall Group is focused on developing research that drives performance in emerging and large organizations, and provides strategic insights for executives and practitioners responsible for growth and business results.
At the core of our offerings is a Membership Program that combines research, benchmarking and unlimited access to data and analysts. The Membership Program offers insights and best practices to enable executives and practitioners to make the right decisions about people, processes, and systems, coalesced with analyst advisory services which aim to put the research into action in a way that is practical and efficient. (http://www.brandonhall.com)
---About Elucidat
Elucidat is a multi-award winning elearning authoring platform used by some of the world's largest enterprise organizations.
Fueled by a team that believes in the power of learning to make a difference, Elucidat offers unrivalled support and services to help their clients deliver real-life impact.
So far, elearning created in Elucidat has reached over 12 million learners in 30+ countries and in over 40 languages.
In 2019 Elucidat secured an investment of $4.5 million from YFM Equity Partners to pursue their vision for people-centered elearning.