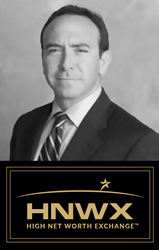 "The opportunity to join the advisory board of the highly anticipated peer-to-peer network for ultra-wealthy family offices and be a part of the leading authorities on matters related to legacy wealth management is an honor and a privilege,"
RANCHO SANTA MARGARITA, Calif. (PRWEB) September 13, 2018
Elysian Capital Holdings, LLC, (ECH) today announced that its High Net Worth Exchange (HNWX), a private technology investment platform for High Net Worth investors, has named Michael D. Underhill to its Advisory Board.
Underhill joins the HNWX Advisory Board with a mastery in quantitative and qualitative investment processes. He is a founder and Chief Investment Officer of Capital Innovations, LLC and a thought leader in the field of quantitative finance, investment policy and portfolio management.
"The opportunity to join the advisory board of the highly anticipated peer-to-peer network for ultra-wealthy family offices and be a part of the leading authorities on matters related to legacy wealth management is an honor and a privilege," states Underhill.
An economist, astute investor, researcher and writer, Underhill has published extensively on international economic and finance topics and is the author of the Handbook of Infrastructure Investing. His research has been featured in leading industry trade journals including Institutional Investor Journal, Investments and Pensions Europe (IPE), Infrastructure Journal, Pensions and Investments Publications, and Investment Management Consultants Association (IMCA). Underhill is a collaborator and contributor to the CFA Institute, the premier global association for investment management professionals. Underhill has often been covered in news publications, including The Wall Street Journal, New York Times, The Financial Times and The Globe and Mail.
 
"The High Net Worth Exchange is an innovative financial technology platform which will cater to a community of family members, family office executives, and trusted advisors. It was founded as a way to make it easier for each member to fulfill their responsibilities to the families they serve," explains Underhill. "By having access to like-minded professionals, members gain insights into how other families are operating, what issues they are facing, and how they achieve innovative solutions. Additionally, the planned extensive online library of articles, papers, podcasts, and videos will provide substantial information on topics of concern to enterprising families."
"It is an honor to have Michael join the HNWX Advisory Board," states John Harline, Chief Executive Officer of Elysian Capital Holdings, LLC. "His level of expertise and incredible perspective signals our commitment to building the future of the High Net Worth Exchange with the brightest minds and most exceptional talent."
Learn more about the High Net Worth Exchange at http://www.HNWXchange.com.
ABOUT ELYSIAN CAPITAL HOLDINGS, LLC
ELYSIAN CAPITAL HOLDINGS, LLC (ECH) oversees a diverse portfolio of synergistic businesses within the financial services and consultative industries. By partnering with growth-oriented, well-positioned companies, we effectively join SMART PEOPLE, with SMART CAPITAL, to ultimately create SMART BUSINESS. Our paradigm is based upon the essential connectivity of these unique components. When intelligent and accomplished individuals are matched with capital and scalable business plans which complement their expertise, the result is a meaningful pool of diversified, intellectual capital that can be shared across all business lines and reflects consistent aggregated revenue growth over time. Learn more about Elysian Capital Holdings at http://www.ElysianCapitalHoldings.com.
ABOUT THE HIGH NET WORTH EXCHANGE
The HIGH NET WORTH EXCHANGE (HNWX) is an exclusive, membership-only platform designed for the exchange of diverse and marquis investment opportunities. Through an innovative collaboration, the HNWX provides an ecosystem of services through HNWX Investment Sponsors that can be uniquely made available to HNWX Club Members prior to being available to institutions or the public.
Connect with HNWX on Linkedin: https://www.linkedin.com/company/hnwx-exchange/