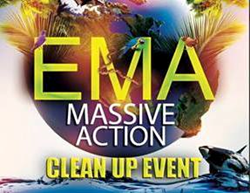 "EMA Massive Actions are a perfect example of how Electronic Music culture can come together and foster positive change in this world." - CEO Julian Reyes, Founder of Keyframe-Entertainment and EMA Board of Directors member.
San Francisco, CA (PRWEB) January 30, 2015
On Saturday, January 31st the ELECTRONIC MUSIC ALLIANCE (EMA), a charity and network of music fans, artists, industry idealists and non-profit partners, will continue to be a bold voice and role model for the electronic dance music (EDM) community by hosting a community action in 5 cities across the U.S. Actions will be held in Los Angeles, San Francisco, Dallas, Houston, and Austin. The first one was held after Florida's Sunset Music Festival in May of last year. The second one took place on October 18th and happened in LA, Vermont, and Las Vegas. They are planned to happen quarterly.
EMA team organizers can pick their own actions, although EMA suggestions are community clean-ups, E-waste drives, random acts of kindness / feeding the homeless, and awareness events or fundraisers. Some events will have crafting stations and also provide information that is critical to the electronic dance music (EDM) community, such as health and safety information, how to lessen our environmental footprint as a culture, and issues like Amending the Rave Act. Amending the Rave Act has most recently been endorsed by Phutureprimitive, as well as by industry veterans like Tommie Sunshine and U.S. EDM pioneers The Crystal Method.
EMA Massive Actions are providing an outlet for EDM fans to bring the love they experience at the festivals and clubs back out into their local communities. Massive Actions provide a platform for local EDM industry to unite and other local non-profits to gain exposure with the EDM demographic. Organizations that will be part of this EMA Massive Action on Saturday are: Heal the Bay LA Chapter, Surfrider San Francisco Chapter, Evolver EDM, PLUR Alliance, PLUR Angels, Music From a Bottle, Give A Beat, Safer Raving by Amy Raves, Roll Random, Rave Ready, Coastal Playground, Cruz Coalition, Boogie Basics, Juicy Girls, Venice Vibes, Oklevueha Native American Church, and Conscious Minds. Promotional support has been given by the 350.org SoCal group, and donations from KIND snacks will be given to the San Francisco and Los Angeles teams for the homeless random acts of kindness part of their Massive Action on Saturday.
Information for all the events can be found on the Electronic Music Alliance website, http://www.EMA-Global.org. Progress can be tracked through the Instagram hashtag #EMAMassiveAction.
About the Electronic Music Alliance (EMA):
EMA is a 501(c)(3) non-profit and global membership alliance of dance music fans, artists, and industry idealists. We encourage our community to be the "Sound of Change." We organize around issues important to the community like health, safety, greening, and giving back to our local communities through charitable works. We work to educate our community about these issues and create programs that offer fun, effective, and collaborative solutions. EMA is currently run by an all-woman Executive team Monica Salazar, Jennifer Adams, and Janine Jordan. EMA is backed by a powerhouse founding membership and board of directors.