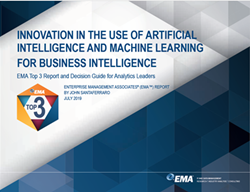 BOULDER, Colo. (PRWEB) July 30, 2019
Enterprise Management Associates (EMA), a leading IT and data management research and consulting firm, today announced the top three vendors, and four additional leaders, in the use of artificial intelligence (AI) and machine learning (ML) in their business intelligence (BI) platforms. In a crowded BI market, AI technology will provide a significant barrier of entry and determine the big winners in the coming years.
EMA built a scoring model based on the priority set by 155 randomly selected participants in the use of AI and ML in business intelligence platforms. The candidate companies were scored based on features in their current product. The top three vendors were selected for their comprehensive coverage of the different AI-enabled capabilities. All top three vendors had the same score, and all had 9 out of the 10 AI-enabled capabilities in their products.
In alphabetical order, here are the Top 3 business intelligence platforms in the use of AI enablement: Sisense, Tellius, ThoughtSpot.
EMA also identified additional leaders for the use of AI enablement in their business intelligence platforms. Out of 400 possible points, there was only a difference of 38 points between the highest-scoring Top 3 vendor and the lowest score of the leaders.
In alphabetical order, here are the additional business intelligence leaders in the use of AI enablement: Salesforce Einstein Analytics, SAP Analytics Cloud, Tibco Spotfire, Yellowfin.
Business and technology leaders who are guiding their organizations on a journey toward the insight-driven enterprise struggle to keep up with the speed of technology innovation. Organizations constrained by limitations of time, cost, and resources will see a breakthrough with new capabilities across the entire information supply chain.
CIOs, CDOs, CAOs, business intelligence leaders, analytics leaders, business analysts, and line of business leaders should read this research report to:

Understand the significance of AI and machine learning in business intelligence platforms
Identify the priority and potential value created by AI and ML in business intelligence platforms
Characterize the top three vendors and additional leaders in the use of AI and ML for business intelligence
Download the report at enterprisemanagement.com: INNOVATION IN THE USE OF ARTIFICIAL INTELLIGENCE AND MACHINE LEARNING FOR BUSINESS INTELLIGENCE