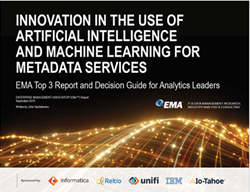 BOULDER, Colo. (PRWEB) September 12, 2019
Enterprise Management Associates (EMA), a leading IT and data management research and consulting firm, today announced the leading innovators in the use of artificial intelligence (AI) and machine learning (ML) in metadata services, data integration, and data preparation. Two EMA research reports also identify the value of using AI and ML in data management, with savings up $5,000,000 annually.
Due to the measurable value created by AI enablement, leading vendors create more value for their customers compared to legacy data management technology. EMA research shows the following potential values when using AI-enabled analytics and data management tools:

88% of users indicate increased speed of innovation
83% of users are already seeing cost savings
Organizations are saving up to 60,000 person-hours annually
Companies can reduce headcount by up to 50 people
Possible cost savings are up to $5,000,000
AI enablement signifies a major shift from passive to active use of metadata. Passive use of metadata focused on definitions and documentation, while the active use of metadata focuses on the delivery of services, such as data cataloguing, data governance, data discovery, and master data services.
In alphabetical order, here are the Top 3 vendors for the use of AI and ML in metadata services platforms: Informatica, Reltio, and Unifi.
In alphabetical order, here are the additional Leaders in the use of AI and ML for metadata: IBM and Io-Tahoe.
Data integration and preparation remain the most time-consuming, resource-constrained activities in any analytics project, often taking up as much as 70%-80% of the effort. The use of AI and ML speeds the delivery of valuable data, increases the reach of analytics, and frees up valuable resources to work on more innovative projects.
In alphabetical order, here are the Top 3 vendors for the use of AI and ML in data integration and data preparation platforms: Informatica, Paxata, and Unifi.
In the reports, EMA recommends that business and technology leaders guiding their organizations on a journey toward the insight-driven enterprise should utilize AI-enabled data management to keep up with the speed of innovation required in today's market.
Download the reports at enterprisemanagement.com: Innovation in the Use of Artificial Intelligence and Machine Learning for Metadata Services, and Innovation in the Use of Artificial Intelligence and Machine Learning for Data Integration and Preparation.
About EMA
Founded in 1996, EMA is a leading industry analyst firm that specializes in providing deep insight across the full spectrum of IT and data management technologies. EMA analysts leverage a unique combination of practical experience, insight into industry best practices, and in-depth knowledge of current and planned vendor solutions to help their clients achieve their goals. Learn more about EMA research, analysis, and consulting services for enterprise line of business users, IT professionals, and IT vendors at http://www.enterprisemanagement.com.