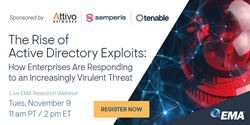 BOULDER, Colo. (PRWEB) November 02, 2021
Enterprise Management Associates (EMA), a leading IT and data management research and consulting firm, today announced it will host a research webinar titled "The Rise of Active Directory Exploits: How Enterprises Are Responding to an Increasingly Virulent Threat," featuring Paula Musich, research director of security and risk management at EMA.
Microsoft's Active Directory is the de facto authentication system used by 90 percent of global enterprises. Given the size and complexity of that attack surface, it is no surprise that every day malicious insiders and external bad actors carry out cyber attacks against 95 million Active Directory accounts. But because it does not contain valuable customer data, intellectual property, or operations data that keeps organizations running, it is not always front and center in IT security teams' efforts to secure their organizations' digital assets.
At the same time, protecting it requires good collaboration between multiple teams within IT, even as its configuration continually evolves to keep up with organizational adds, moves, and changes. Attackers continue to exploit these advantages, advancing their tactics and racking up impressive breach headlines, including the Solarwinds breach and the LockBit 2.0 ransomware strain that can now automatically distribute ransomware throughout a Windows domain.
To understand how IT security teams are responding to this growing threat, EMA surveyed 250 IT security practitioners in North America in the summer of 2021. During this webinar, Musich will share insights from the new research report "The Rise of Active Directory Exploits: ls it Time to Sound the Alarm?" and delve into:

Awareness among CISOs and their teams of the risks associated with day to day use of Active Directory
The strategies they are employing to mitigate those risks
How well they are coordinating with AD administrators to address these risks
How much visibility they have into attacks against AD
This independent research was sponsored by Attivo Networks, Semperis, and Tenable.
The webinar is Tuesday, November 9 at 2:00 p.m. Eastern. Registration is available at https://info.enterprisemanagement.com/the-rise-of-active-directory-exploits-webinar-pr
About EMA
Founded in 1996, EMA is a leading industry analyst firm that specializes in providing deep insight across the full spectrum of IT and data management technologies. EMA analysts leverage a unique combination of practical experience, insight into industry best practices and in-depth knowledge of current and planned vendor solutions to help their clients achieve their goals. Learn more about EMA research, analysis and consulting services for enterprise line of business users, IT professionals and IT vendors at https://www.enterprisemanagement.com.