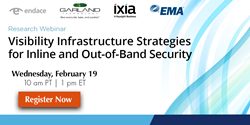 BOULDER, Colo. (PRWEB) February 12, 2020
Enterprise Management Associates (EMA), a leading IT and data management research and consulting firm, today announced it will host a research webinar titled "Visibility Infrastructure Strategies for Inline and Out-of-Band Security," based on the research report by the same name written by Shamus McGillicuddy, research director of network management at EMA.
EMA completed new research that examines how IT organizations enable a secure network with visibility technologies, including network packet brokers, bypass switches, TAPs, and packet capture appliances. Bypass devices are critical to minimizing downtime when connecting inline security appliances to the network. Network packet brokers and TAPs comprehensively mirror traffic to out-of-band security solutions, while packet capture appliances enable forensic security analysis.
This new research explores how enterprises should procure, deploy, and administer visibility products to ensure a secure and reliable network.
During this webinar, McGillicuddy will explore the results of this research, including:

Bypass technology: how enterprises should connect inline security appliances to the production network
Out-of-band security: how enterprises can use visibility infrastructure to deliver the packet data to passive security solutions
Packet capture: how enterprises can support forensic security requirements with packet capture technology
Technology challenges and opportunities: the factors that determine whether an enterprise succeeds or fails with these technologies
The webinar is Wednesday, February 19 at 1:00 p.m. Eastern. Registration is available at:
http://info.enterprisemanagement.com/visibility-infrastructure-strategies-webinar-pr
A detailed analysis of the research findings is available in the report, "Visibility Infrastructure Strategies for Inline and Out-of-Band Security."
About EMA
Founded in 1996, EMA is a leading industry analyst firm that specializes in providing deep insight across the full spectrum of IT and data management technologies. EMA analysts leverage a unique combination of practical experience, insight into industry best practices and in-depth knowledge of current and planned vendor solutions to help their clients achieve their goals. Learn more about EMA research, analysis and consulting services for enterprise line of business users, IT professionals and IT vendors at http://www.enterprisemanagement.com.