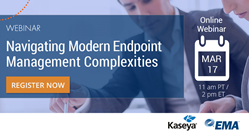 BOULDER, Colo. (PRWEB) March 10, 2020
Enterprise Management Associates (EMA), a leading IT and data management research and consulting firm, today announced it will host a research webinar titled "Navigating Modern Endpoint Management Complexities" featuring Steve Brasen, research director of endpoint and identity management at EMA, and Mike Puglia, chief customer marketing officer at Kaseya.
According to research conducted by EMA, the primary challenge organizations face today with ensuring end-user productivity through the secure and reliable delivery of IT services is related to the sheer complexity of modern IT ecosystems. Application, data, and other IT resources are distributed across on-premises and multi-cloud environments in 85% of businesses. More than half of all business tasks are performed outside of a physical workplace, and 45% of all workers regularly employ more than one type of device to perform job functions. Users are demanding increased service delivery, with IT resources expected to be accessible at any time, at any location, and on any device. On top of all this, IT managers are increasingly pressured to reduce operational costs and meet expanding business requirements for security and compliance.
During this webinar, Brasen and Puglia will give actionable guidance on how to navigate modern endpoint management challenges in order to simplify administration tasks, lower costs, improve end-user experiences, and meet organizational goals. Key topics of discussion will include:

Unifying management across disparate endpoint devices and hosted IT services
Increasing the efficiency of administrative efforts to achieve faster response and reduce costs
Eliminating point solutions sprawl and "swivel chair management"
Improving the reliability of IT services through automation and integration
The webinar is Tuesday, March 17 at 2:00 p.m. Eastern. Registration is available at:
http://info.enterprisemanagement.com/navigating-modern-endpoint-management-complexities-webinar-pr
About EMA
Founded in 1996, EMA is a leading industry analyst firm that specializes in providing deep insight across the full spectrum of IT and data management technologies. EMA analysts leverage a unique combination of practical experience, insight into industry best practices, and in-depth knowledge of current and planned vendor solutions to help their clients achieve their goals. Learn more about EMA research, analysis, and consulting services for enterprise line of business users, IT professionals and IT vendors at http://www.enterprisemanagement.com.