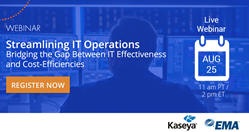 BOULDER, Colo. (PRWEB) August 13, 2020
Enterprise Management Associates (EMA), a leading IT and data management research and consulting firm, today announced it will host a webinar titled "Streamlining IT Operations: Bridging the Gap Between IT Effectiveness and Cost-Efficiencies" featuring Steve Brasen, research director of endpoint and identity management at EMA, and Christopher Distasio, senior director of product management at Kaseya.
According to primary research from EMA, more than half of all businesses consider cost reduction to be a primary focus of their current IT management strategies. While many organizations mistakenly believe that taking steps to reduce IT expenditures will proportionally decrease IT effectiveness, the two do not need to be diametrically opposed forces. By introducing holistic visibility, seamless workflows, and policy-guided automation, businesses can streamline IT operations to substantially reduce costs while simultaneously improving IT service reliability, security, and performance.
During this webinar, Brasen and Distasio will discuss how organizations can achieve the most value out of their existing IT investments, as well as:

Key elements for identifying the true cost of IT, including both CapEx and OpEx
The most common barriers organizations face in trying to reduce operational expenditures
The effect of increased cloud adoption on IT operations and how to streamline cloud service delivery
How the COVID-19 pandemic has impacted enterprise IT budgets, and how organizations can cost-effectively adapt to managing remote workforces
Effective reconciliation methods to consolidate backend services
How automation can be utilized to minimize administration efforts, enable IT self-healing, and empower users with self-service capabilities
The webinar is Tuesday, August 25 at 2:00 p.m. Eastern. Registration is available at:
https://info.enterprisemanagement.com/streamlining-it-operations-webinar-pr
About EMA
Founded in 1996, EMA is a leading industry analyst firm that specializes in providing deep insight across the full spectrum of IT and data management technologies. EMA analysts leverage a unique combination of practical experience, insight into industry best practices, and in-depth knowledge of current and planned vendor solutions to help their clients achieve their goals. Learn more about EMA research, analysis, and consulting services for enterprise line of business users, IT professionals and IT vendors at https://www.enterprisemanagement.com.