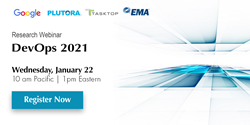 BOULDER, Colo. (PRWEB) January 14, 2020
Enterprise Management Associates (EMA), a leading IT and data management research and consulting firm, today announced it will host a research webinar titled "DevOps 2021," featuring Steve Hendrick, research director of application management at EMA.
Drawing from a recent EMA survey of global respondents and spanning development, operations, IT service management (ITSM) teams and executive IT, this webinar will address DevOps initiatives from many perspectives.
During the webinar, Hendrick will dive into the research results, as well as address the following questions:

How fast is DevOps being adopted and what is the sequencing and actual/planned penetration of DevOps capabilities across 20 markets?
What insights were gathered on the highest growth areas of DevOps, including value stream management (VSM), operational analytics (OA), and test environment management (TEM)?
What strategies and approaches are enterprises leveraging to address their VSM, POA, and TEM needs?
Where is the DevOps market headed, and what are likely to be the next important growth areas?
The webinar is Wednesday, January 22 at 1:00 p.m. Eastern. Registration is available at http://info.enterprisemanagement.com/devops-2021-webinar-pr
About EMA
Founded in 1996, EMA is a leading industry analyst firm that specializes in providing deep insight across the full spectrum of IT and data management technologies. EMA analysts leverage a unique combination of practical experience, insight into industry best practices and in-depth knowledge of current and planned vendor solutions to help their clients achieve their goals. Learn more about EMA research, analysis and consulting services for enterprise line of business users, IT professionals and IT vendors at http://www.enterprisemanagement.com.