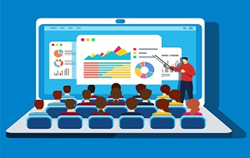 BOULDER, Colo. (PRWEB) November 28, 2018

Enterprise Management Associates (EMA), a leading IT and data management research and consulting firm, today announced it will host a research webinar titled "Wide-Area Network Transformation: How Enterprises Succeed with Software-Defined WAN," featuring Shamus McGillicuddy, research director of network management at EMA.
The majority of enterprises are fully engaged with software-defined WAN (SD-WAN) technology. They understand the business value, and they recognize the need to implement the technology. Now organizations need to understand how to succeed with this newly emerged class of networking solutions.
EMA has published new research that explores wide-area network (WAN) transformation from all directions. Based on a survey of 305 enterprise decision-makers with direct involvement in their organization's WAN, this research examines:

The drivers that are forcing enterprises to reinvent their networks
The technologies they are using to enable that reinvention
The challenges they encounter along the way
The best practices they have established to guarantee success
More specifically, McGillicuddy will delve deeper into the research results, including:

WAN strategy drivers: What are the technology initiatives and business strategies that shape WAN strategy?
The rise of the internet: Why are enterprises making the internet such a strategic part of their WAN, and what's the best way to use it?
Cloud enablement: How much is the cloud impacting WANs today, and how does the cloud influence changes to network architecture?
SD-WAN: Why are enterprises adopting SD-WAN? What features are important to them? How do they manage it? What challenges do they encounter? How does SD-WAN adoption impact their overall success with networking?
WAN management strategies: What kinds of tools are enterprises using to manage the network, from the core of the access layer in remote sites? Are tool requirements evolving? How are network management teams evolving?
Security: How does the internet, the cloud and SD-WAN impact security? Are enterprises experiencing security breaches at remote sites? If so, what are the best practices for addressing security risk as enterprises transform their networks?
The webinar is Thursday, December 13 at 2:00 p.m. Eastern. Registration is available at: http://info.enterprisemanagement.com/succeed-with-software-defined-wan-webinar-pr
About EMA
Founded in 1996, EMA is a leading industry analyst firm that specializes in providing deep insight across the full spectrum of IT and data management technologies. EMA analysts leverage a unique combination of practical experience, insight into industry best practices and in-depth knowledge of current and planned vendor solutions to help clients achieve their goals. Learn more about EMA research, analysis and consulting services for enterprise line of business users, IT professionals and IT vendors at http://www.enterprisemanagement.com.