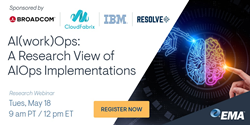 BOULDER, Colo. (PRWEB) May 11, 2021
Enterprise Management Associates (EMA), a leading IT and data management research and consulting firm, today announced it will host a research webinar titled "AI(work)Ops: A Research View of AIOps Implementations," based on the new research report authored by Valerie O'Connell, research director of digital service execution at EMA.
Although artificial intelligence for IT operations (AIOps) is still relatively new to IT (more than 60% of the implementations are less than two years in), there are big wins to be had—both quantifiable and qualitative. In fact, AIOps has a very high success rate (95%) and almost universally pays for itself.
This new research from EMA examines the characteristics that are common to the 21% who rate the impact of AIOps on the IT/business relationship as "transformational."
During this webinar, O'Connell will discuss some of the results of this research, including:

AIOps, automation, and digital transformation
Key capabilities
Indicators and metrics of success
Organizational drivers and priorities
Challenges and demonstrated benefits
Budgets, buyers, and preferences
Platform considerations
Success factors
The webinar is Tuesday, May 18 at 12:00 p.m. Eastern. Registration is available at https://info.enterprisemanagement.com/a-research-view-of-aiops-implementations-pr
About EMA
Founded in 1996, EMA is a leading industry analyst firm that specializes in providing deep insight across the full spectrum of IT and data management technologies. EMA analysts leverage a unique combination of practical experience, insight into industry best practices, and in-depth knowledge of current and planned vendor solutions to help their clients achieve their goals. Learn more about EMA research, analysis, and consulting services for enterprise line of business users, IT professionals and IT vendors at https://www.enterprisemanagement.com.