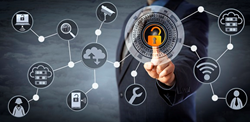 BOULDER, Colo. (PRWEB) September 05, 2018
Enterprise Management Associates (EMA), a leading IT and data management research and consulting firm, today announced it will host a research webinar titled "Responsible User Empowerment: Enabling Privileged Access Management" featuring Steve Brasen, research director of endpoint and identity management at EMA.
Many organizations are still challenged with understanding and introducing policies and solutions for privileged access management. To help organizations plan effective PAM implementations, EMA conducted primary research on the current requirements, challenges, and best practices to be included in a PAM approach.
During this webinar, Brasen will reveal some of the key finding from this research, as well as provide actionable guidance on the most effective PAM approaches to address today's existing and emerging security challenges. Topics of discussion will include:

How frequently administrator and non-administrators require and use privileged access to personal devices and business service
The length of time users are typically granted privileged access to business systems
The greatest barriers to successfully enabling more effective privileged access
Key practices organizations currently employ to control privileged access to business systems and which are the most effective
How best to implement a PAM solution without reducing end-user productivity or increasing the complexity of IT administration
How to achieve quantifiable cost savings, performance improvements, and security enhancements with a PAM implementation
The webinar is Thursday, September 20 at 1:00 p.m. Eastern. Those who wish to attend can register at: http://info.enterprisemanagement.com/privileged-access-management-2018-webinar-pr
About EMA
Founded in 1996, Enterprise Management Associates (EMA) is a leading industry analyst firm that specializes in providing deep insight across the full spectrum of IT and data management technologies. EMA analysts leverage a unique combination of practical experience, insight into industry best practices, and in-depth knowledge of current and planned vendor solutions to help its clients achieve their goals. Learn more about EMA research, analysis, and consulting services for enterprise line of business users, IT professionals and IT vendors at http://www.enterprisemanagement.com.