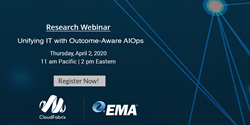 BOULDER, Colo. (PRWEB) March 24, 2020
Enterprise Management Associates (EMA), a leading IT and data management research and consulting firm, today announced it will host a webinar titled "Unifying IT with Outcome-Aware AIOps," featuring Dennis Drogseth, vice president of research, IT megatrends, analytics and CMDB systems at EMA, and Bhaskar Krishnamsetty, co-founder and chief product officer at CloudFabrix Software Inc.
Since 2012, EMA has conducted more than five separate AIOps research projects, including reviews of more than 70 AIOps-related customer deployments. Deep insights into this topic will continue with this webinar, which will provide the latest insights into what makes AIOps tick, how it differs from other analytic technologies, and how to best succeed in AIOps deployments and unify IT in the process.
Specific topics that will be covered include:

What AIOps is and what makes it different and relevant
How AIOps can help to unify IT into more focused and effective teams. For instance, recent data shows that IT organizations are seeking AIOps support for 19 different roles, including IT domain and cross-domain, as well as business stakeholders.
How business outcomes align with AIOps use cases based on real-world examples
What to prioritize in selecting an AIOps solution
The webinar is Thursday, April 2 at 2:00 p.m. Eastern. Registration is available at http://info.enterprisemanagement.com/unifying-it-with-outcome-aware-aiops-webinar-pr
About EMA
Founded in 1996, EMA is a leading industry analyst firm that specializes in providing deep insight across the full spectrum of IT and data management technologies. EMA analysts leverage a unique combination of practical experience, insight into industry best practices and in-depth knowledge of current and planned vendor solutions to help their clients achieve their goals. Learn more about EMA research, analysis and consulting services for enterprise line of business users, IT professionals and IT vendors at http://www.enterprisemanagement.com.