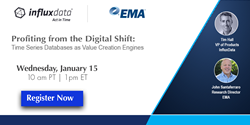 BOULDER, Colo. (PRWEB) January 02, 2020
Enterprise Management Associates (EMA), a leading IT and data management research and consulting firm, today announced it will host a webinar titled "Profiting from the Digital Shift: Time Series Databases as Value Creation Engines," featuring John Santaferraro, research director of business intelligence and data warehousing at EMA, and Tim Hall, vice president of products at InfluxData.
In the digital world, leading organizations are already managing transactions in nanoseconds, engaging customers or employees in real-time, and delivering flawless services powered by networks of machines and sensors. Digital innovation moves at a pace difficult to understand. It has already gone through three very significant shifts, from applications to engagement to intelligence.
To make the most of these shifts, time series databases provide new capabilities to replace the inefficiencies of legacy systems. With a time series database, developers can deploy modern applications without limitations in time, geography, and scale.
During this webinar, Santaferraro and Hall will discuss the value organizations will realize with a time series database, including:

How time series databases eliminate barriers in time, geography, and scale
How developers can easily deploy modern, time-sensitive applications
How stakeholders can engage customers with responsive intelligence
How modern applications create value and competitive advantage
The webinar is Wednesday, January 15 at 1:00 p.m. Eastern. Registration is available at http://info.enterprisemanagement.com/profiting-from-the-digital-shift-webinar-pr.
About EMA
Founded in 1996, EMA is a leading industry analyst firm that specializes in providing deep insight across the full spectrum of IT and data management technologies. EMA analysts leverage a unique combination of practical experience, insight into industry best practices and in-depth knowledge of current and planned vendor solutions to help their clients achieve their goals. Learn more about EMA research, analysis and consulting services for enterprise line of business users, IT professionals and IT vendors at http://www.enterprisemanagement.com.