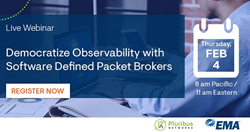 BOULDER, Colo. (PRWEB) January 26, 2021
Enterprise Management Associates (EMA), a leading IT and data management research and consulting firm, today announced it will host a webinar titled "Democratize Observability with Software Defined Packet Brokers," featuring Shamus McGillicuddy, vice president of research covering network management at EMA, and Alessandro Barbieri, vice president of product management at Pluribus Networks.
Network packets are the best source of truth for network and security operations, but packets are difficult to capture and analyze. To get a full picture of the network, an IT organization needs to mirror traffic from multiple network segments and analyze massive volumes of data. Network Packet Brokers (NPBs) can solve both these problems by aggregating, optimizing and load balancing mirrored traffic. Unfortunately, traditional NPB appliances are expensive.
Software Defined Packet Brokers (SDPBs), which combine the principles of disaggregation and SDN automation, democratize network data by allowing network operations and security teams to analyze all the packets they need without busting the budget. Furthermore, using approaches based on SDN-automated fabric architectures can enable significant scale inside a single data center or across multiple geographically distributed data centers while maintaining simplified operations. By deploying innovative NPB software on commodity switching hardware, IT organizations can affordably collect traffic from more network segments while filtering and load balancing that traffic across network monitoring and security tools.
During this webinar, McGillicuddy and Barbieri will discuss in depth how packet brokers can deliver visibility affordably and at scale for the network. Topics of discussion will include:

Trends in Network Packet Brokers
Pros and cons of traditional NPBs
The advantages of using disaggregated SDPBs
Best practices for maximizing the value of SDPBs
The webinar is Thursday, February 4 at 11:00 a.m. Eastern. Registration is available at https://info.enterprisemanagement.com/democratize-observability-with-software-defined-packet-brokers-webinar-pr
About EMA
Founded in 1996, EMA is a leading industry analyst firm that specializes in providing deep insight across the full spectrum of IT and data management technologies. EMA analysts leverage a unique combination of practical experience, insight into industry best practices and in-depth knowledge of current and planned vendor solutions to help their clients achieve their goals. Learn more about EMA research, analysis and consulting services for enterprise line of business users, IT professionals and IT vendors at https://www.enterprisemanagement.com.