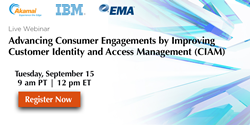 BOULDER, Colo. (PRWEB) September 03, 2020
Enterprise Management Associates (EMA), a leading IT and data management research and consulting firm, today announced it will host a webinar titled "Advancing Consumer Engagements by Improving Customer Identity and Access Management" featuring Steve Brasen, research director of endpoint and identity management at EMA, Martijn Loderus, global CIAM leader at IBM Security, and Tony Lauro, director of technology and security strategy at Akamai Technologies.
Consumers must navigate a number of steps to create and access their online accounts and profiles. As a result, the login and authentication experience can inevitably impact the consumer's first impression of a company, influencing brand perceptions and loyalty. For example, a consumer that experiences a poor access experience will often dismiss a company in favor of competitors with lower-friction access controls. At the same time, businesses have an obligation to protect customer data and verify that the information is appropriately protected to meet stringent requirements for security and compliance.
During this webinar, Brasen, Loderus, and Lauro will have an in-depth discussion about the evolving challenges, requirements, and solutions for enabling effective CIAM. Topics of discussion will include:

The most significant impacts of the COVID-19 pandemic on CIAM requirements
How CIAM technologies differ from traditional enterprise identity and access management solutions
Addressing challenges for achieving scalability
Meeting stringent requirements for regulatory compliance
How to reduce CIAM administration efforts and related costs
Customizing access policies to improve consumer experiences based on contextual conditions
How to responsibly minimize end user access friction while simultaneously improving security effectiveness
Key elements to look for in selecting the right CIAM partner
The webinar is Tuesday, September 15 at 12:00 p.m. Eastern. Registration is available at: https://info.enterprisemanagement.com/customer-identity-and-access-management-webinar-pr
About EMA
Founded in 1996, EMA is a leading industry analyst firm that specializes in providing deep insight across the full spectrum of IT and data management technologies. EMA analysts leverage a unique combination of practical experience, insight into industry best practices, and in-depth knowledge of current and planned vendor solutions to help their clients achieve their goals. Learn more about EMA research, analysis, and consulting services for enterprise line of business users, IT professionals and IT vendors at https://www.enterprisemanagement.com.