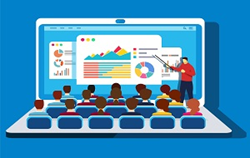 BOULDER, Colo. (PRWEB) October 23, 2018
Enterprise Management Associates (EMA), a leading IT and data management research and consulting firm, today announced it will host a webinar titled "Optimizing IT Costs and Value Through Usage-Driven Insights," featuring Dennis Drogseth, vice president of research at EMA, and Will Degener, senior product manager at Scalable Software, Ltd.
Understanding what IT assets and services are needed most—and which are needed least or are no longer active—is critical to help IT save CapEx dollars and promote improved OpEx efficiencies. These advantages extend well beyond traditional asset management to support enhanced IT portfolio relevance, and more effective use of cloud-based resources. Understanding usage can also inform on end-user needs so that IT can better invest to support them.
During this webinar, Drogseth and Degener will discuss how organizations can benefit from usage-driven insights, as well as provide answers to the following questions:

How do IT organizations align to optimize cost and value? Who are the players and what are the challenges?
What does usage really mean? What data is most critical?
What are the key technology areas where usage-driven insights come into play, from CMDBs and service catalogs, to endpoint and capacity optimization, to end-user-experience management and portfolio planning?
What is the impact on audits, on cloud, on overall IT-to-business alignment?
Beyond technology, what should one look for in terms of organization and process to optimize usage-driven insights? What benefits can you expect to achieve?
The webinar is Wednesday, October 31at 1:00 p.m. Eastern. Those who wish to attend can register at: http://info.enterprisemanagement.com/usage-driven-insights-webinar-pr
About Enterprise Management Associates (EMA)
Founded in 1996, EMA is a leading industry analyst firm that specializes in providing deep insight across the full spectrum of IT and data management technologies. EMA analysts leverage a unique combination of practical experience, insight into industry best practices, and in-depth knowledge of current and planned vendor solutions to help clients achieve their goals. Learn more about EMA research, analysis, and consulting services for enterprise line of business users, IT professionals and IT vendors at http://www.enterprisemanagement.com.