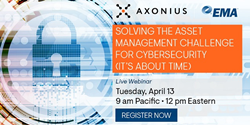 BOULDER, Colo. (PRWEB) April 07, 2021
Enterprise Management Associates (EMA), a leading IT and data management research and consulting firm, today announced it will host a webinar titled "Solving the Asset Management Challenge for Cybersecurity (It's About Time)," featuring Chris Steffen, research director covering security and risk management at EMA, and Nathan Burke, chief marketing officer at Axonius.
During this webinar, Steffen and Burke will discuss why solving asset management for cybersecurity is becoming increasingly important, and explain why something so fundamental has quickly risen to the top of CISOs priority lists.
Attendees will learn how getting the fundamentals right enables organizations to build predictable, scalable, and efficient security programs, as well as get insights into:

The Asset Management Mandate - why different security frameworks and regulations consider asset management foundational for cybersecurity
The Asset Management Challenge - why asset management is still a challenge in 2021, and why it is becoming increasingly difficult and important
Asset-Related Cybersecurity Use Cases - how everything done in security relies on an accurate knowledge of devices, users, cloud services, and the controls that are expected to be in place
Steffen and Burke will conclude the event by outlining one approach to solving asset management for cybersecurity and providing additional resources to get started.
The webinar is Tuesday, April 13 at 12:00 p.m. Eastern. Registration is available at https://info.enterprisemanagement.com/solving-the-asset-management-challenge-for-cybersecurity-webinar-pr
About EMA
Founded in 1996, EMA is a leading industry analyst firm that specializes in providing deep insight across the full spectrum of IT and data management technologies. EMA analysts leverage a unique combination of practical experience, insight into industry best practices, and in-depth knowledge of current and planned vendor solutions to help their clients achieve their goals. Learn more about EMA research, analysis, and consulting services for enterprise line of business users, IT professionals and IT vendors at https://www.enterprisemanagement.com.