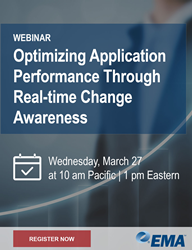 BOULDER, Colo. (PRWEB) March 14, 2019
Enterprise Management Associates (EMA), a leading IT and data management research and consulting firm, today announced it will host a webinar titled "Optimizing Application Performance Through Real-time Change Awareness," featuring Dennis Drogseth, vice president of research at EMA, and Sasha Gilenson, founder and chief executive officer at Evolven.
Although changes are the root causes behind most performance problems, many IT organizations still struggle with a haze of siloed tools and obsolete data in their efforts to integrate change and performance in a timely manner. Most APM-centric monitoring capabilities, while capturing top-down insights into infrastructure and application interdependencies, fall far short of recognizing how the myriad of changes made across large, complex infrastructures might impact business service performance. In fact, EMA consulting data indicates that more than 60% of planned or intended changes are the cause of performance outages, and the number only escalates when unintended changes to the application infrastructure are included.
Drawing from extensive EMA research, consulting and IT interviews, this webinar will provide attendees with a timely look at how IT is changing and why it is becoming increasingly imperative to find a way to blend change awareness with APM alerts.
Attendees will also learn more about:

Critical dimensions in cloud, digital transformation and DevOps trends that are impacting IT overall, and application performance in particular
What is really going on in the digital war room as IT teams seek to resolve application performance issues with often fractured data sets
Why machine learning and advanced analytics are critical for blending real-time change awareness with application performance insights
How real-time change awareness can help to unify IT as a whole, for more effective application lifecycle management
The webinar is Wednesday, March 27 at 1:00 p.m. Eastern. Those who wish to attend can register at: http://info.enterprisemanagement.com/optimizing-app-performance-via-real-time-change-awareness-webinar-pr
About EMA
Founded in 1996, EMA is a leading industry analyst firm that specializes in providing deep insight across the full spectrum of IT and data management technologies. EMA analysts leverage a unique combination of practical experience, insight into industry best practices, and in-depth knowledge of current and planned vendor solutions to help clients achieve their goals. Learn more about EMA research, analysis, and consulting services for enterprise line of business users, IT professionals and IT vendors at http://www.enterprisemanagement.com.