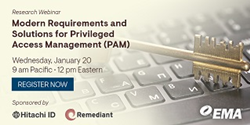 BOULDER, Colo. (PRWEB) January 12, 2021
Enterprise Management Associates (EMA), a leading IT and data management research and consulting firm, today announced it will host a research webinar titled "Modern Requirements and Solutions for Privileged Access Management (PAM)" featuring Steve Brasen, research director of endpoint and identity management at EMA.
One out of every five business employees have been granted privileged access to company systems and applications. Unfortunately, individuals do not always follow security policies governing the use and protection of privileged accounts. Modern requirements for distributing IT services across clouds, on-premises servers, and endpoint devices are making it increasingly difficult for organizations to establish control over privileged access use and management practices.
During this webinar, Brasen will reveal key findings from EMA's recently published primary research on "Advancing PAM to Address Modern Business Requirements." Topics of discussions will include:

Current and emerging business requirements for and usage of privileged access
The most critical threats and challenges to securing privileged accounts
How to manage local administrator account on endpoint device, such as PCs and laptops
The risks of employing shared and/or standing privileged accounts and how to minimize or eliminate them
Solutions for reducing PAM administration efforts and related costs
How to identify the PAM practices and processes that are most effective at preventing privileged access breaches and policy violations
The webinar is Wednesday, January 20 at 12:00 p.m. Eastern. Registration is available at:
https://info.enterprisemanagement.com/modern-requirements-and-solutions-for-privileged-access-management-webinar-pr
About EMA
Founded in 1996, EMA is a leading industry analyst firm that specializes in providing deep insight across the full spectrum of IT and data management technologies. EMA analysts leverage a unique combination of practical experience, insight into industry best practices, and in-depth knowledge of current and planned vendor solutions to help their clients achieve their goals. Learn more about EMA research, analysis, and consulting services for enterprise line of business users, IT professionals and IT vendors at https://www.enterprisemanagement.com.