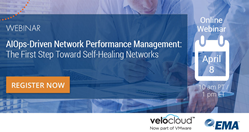 BOULDER, Colo. (PRWEB) March 31, 2020
Enterprise Management Associates (EMA), a leading IT and data management research and consulting firm, today announced it will host a webinar titled "AIOps-Driven Network Performance Management: The First Step Toward Self-Healing Networks," featuring Shamus McGillicuddy, vice president of research at EMA, Anand Srinivas, chief technology officer of Nyansa, now part of VMware, and Craig Connors, vice president and chief technology officer of VeloCloud, now part of VMware.
Artificial Intelligence for IT Operations (AIOps) is the concept of using big data analytics, machine learning, and other advanced technologies to enhance IT operations. Research from EMA has found that enterprises are applying AIOps solutions to network infrastructure today to enhance service assurance and automation.
During this webinar, McGillicuddy, Srinivas and Connors will discuss how enterprises are driving toward self-healing networks with AIOps solutions and transforming network operations.
Attendees will learn how they can:

Use AIOps capabilities to enhance network performance management
Drive network automation with AIOps
Advance toward self-healing networking and closed-loop operations
The webinar is Wednesday, April 8 at 1:00 p.m. Eastern. Registration is available at http://info.enterprisemanagement.com/aiops-driven-network-performance-management-webinar-pr
About EMA
Founded in 1996, EMA is a leading industry analyst firm that specializes in providing deep insight across the full spectrum of IT and data management technologies. EMA analysts leverage a unique combination of practical experience, insight into industry best practices, and in-depth knowledge of current and planned vendor solutions to help their clients achieve their goals. Learn more about EMA research, analysis, and consulting services for enterprise line of business users, IT professionals and IT vendors at http://www.enterprisemanagement.com.