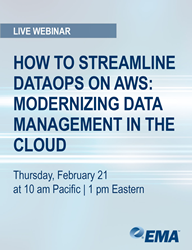 BOULDER, Colo. (PRWEB) February 12, 2019
Enterprise Management Associates (EMA), a leading IT and data management research and consulting firm, today announced it will host a webinar titled "How to Streamline DataOps on AWS: Modernizing Data Management in the Cloud," featuring John Santaferraro, Research Director covering business intelligence and data warehousing at EMA, Will Davis, Senior Director of product marketing at Trifacta, and Nikki Rouda, Principal Product Marketing Manager at Amazon Web Services.
The quest for the insight-driven enterprise has spurned a mass exodus to the cloud. But cloud data ecosystems can be very complex with multiple data storage and processing options. Most organizations are struggling with how to accelerate analytics in their data lake environments. For example, many organizations are struggling to figure out how to manage data across all the services offered by Amazon Web Services. Data can be stored and analyzed in a variety of different AWS services including Amazon Redshift, EMR, and S3 with Athena.
Modern data preparation platforms bring the discipline of DataOps to complex cloud environments. Data provisioning, self-service, and intelligent data preparation powered by machine learning are enabling agile methodologies that had previously been relegated to application development.
During this webinar, Santaferraro, Davis, and Rouda will delve into these topics and provide insights that will help the audience:

Understand technology trends that simplify the analytics modernization journey
Learn best practices to operationalize data management on AWS
Establish operational excellence leveraging AWS data storage and processing
Accelerate time-to-value for analytics projects with data preparation on AWS
The webinar is Thursday, February 21 at 1:00 p.m. Eastern. Registration is available at http://info.enterprisemanagement.com/how-to-streamline-dataops-on-aws-webinar-pr
About EMA
Founded in 1996, EMA is a leading industry analyst firm that specializes in providing deep insight across the full spectrum of IT and data management technologies. EMA analysts leverage a unique combination of practical experience, insight into industry best practices, and in-depth knowledge of current and planned vendor solutions to help their clients achieve their goals. Learn more about EMA research, analysis, and consulting services for enterprise line of business users, IT professionals and IT vendors at http://www.enterprisemanagement.com.