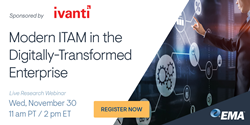 BOULDER, Colo. (PRWEB) November 22, 2022
Enterprise Management Associates (EMA), a leading IT and data management research and consulting firm, today announced it will host a webinar titled "Modern ITAM in the Digitally-Transformed Enterprise" featuring Valerie O'Connell, research director covering IT service and business management at EMA.
EMA recently conducted in-depth research with a global panel of IT leaders to explore the changing requirements and roles of IT asset management in digitally transforming enterprises. According to this research, 65% of organizations now hold IT responsible for the business impact of its investments. The scope and pace of change means that modern IT teams cannot rely on IT asset management approaches and tools designed for less complex times.
During this webinar, O'Connell will discuss some of the research findings, including:

ITAM accuracy, quality of IT service, and budget
Changing roles and organizational status of ITAM teams
Highest business impact uses of ITAM information
Security and ITAM
The employee experience connection
FinOps and ITAM: friends or foes?
New asset types and uses reshaping ITAM
Intelligent automation and technology advances
The webinar is Wednesday, November 30 at 2:00 p.m. Eastern. Registration is available at https://info.enterprisemanagement.com/modern-itam-webinar-pr
This independent research is sponsored by Ivanti.
About EMA
Founded in 1996, EMA is a leading industry analyst firm that specializes in providing deep insight across the full spectrum of IT and data management technologies. EMA analysts leverage a unique combination of practical experience, insight into industry best practices, and in-depth knowledge of current and planned vendor solutions to help their clients achieve their goals. Learn more about EMA research, analysis, and consulting services for enterprise line of business users, IT professionals and IT vendors at https://www.enterprisemanagement.com.