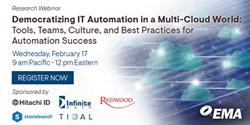 BOULDER, Colo. (PRWEB) February 09, 2021
Enterprise Management Associates (EMA), a leading IT and data management research and consulting firm, today announced it will host a research webinar titled "Democratizing IT Automation in a Multi-Cloud World: Tools, Teams, Culture, and Best Practices for Automation Success," featuring Dan Twing president and chief operations officer at EMA.
Some organizations use workload automation and other automation tools to great effectiveness, while the majority of their peers achieve more moderate results. Based on the new global research study, this webinar will explore the traits that set the successful organizations apart from the less successful ones.
The most successful organizations create a culture of automation and get the most out of the tools they use. Processes are rethought and redesigned. Employees are empowered with better information and self-service capabilities that allow them to directly and positively impact business outcomes.
The research also looks at the impact of corporate culture toward automation, the role of the automation team in broader IT operations and business process automation, and other characteristics of enterprises most effective at deploying automation.
During this webinar, Twing will discuss some of the results of this research, including:

How organizations organize the scheduling function and the teams that manage the workload automation software
The sources of budgets and authority, and the extent of evangelizing automation
The ongoing impact of increasing use of multi-cloud resources as more legacy production work is moved to cloud infrastructures
This independent IT automation research report was sponsored by Hitachi ID, InfiniteDATA, Redwood, Stonebranch, and Tidal Software.
The webinar is Wednesday, February 17 at 12:00 p.m. Eastern. Registration is available at https://info.enterprisemanagement.com/democratizing-it-automation-in-a-multi-cloud-world-webinar-pr
About EMA
Founded in 1996, EMA is a leading industry analyst firm that specializes in providing deep insight across the full spectrum of IT and data management technologies. EMA analysts leverage a unique combination of practical experience, insight into industry best practices, and in-depth knowledge of current and planned vendor solutions to help clients achieve their goals. Learn more about EMA research, analysis, and consulting services for enterprise line of business users, IT professionals and IT vendors at https://www.enterprisemanagement.com.