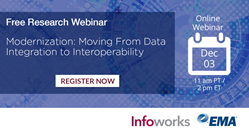 BOULDER, Colo. (PRWEB) November 19, 2019
Enterprise Management Associates (EMA), a leading IT and data management research and consulting firm, today announced it will host a research webinar titled "Modernization: Moving from Data Integration to Interoperability," featuring John Santaferraro, research director covering business intelligence and data warehousing at EMA.
Digital transformation is producing massive new data and pushing data consumption requirements to real time. Mobile, SaaS, and IoT expansion are testing the boundaries of legacy technology. The increase in the speed of insight-driven business requires data feeds from transactions, applications, APIs, service providers, data providers, and devices of every kind. Complex ecosystems like supply chains, social networks, and healthcare take integration push requirements even further.
The result is a race among vendors to shift from data integration to interoperability. Traditional platforms like data integration, messaging, application integration, and streaming data platforms, are expanding to embrace the change. In addition, the market is producing new categories like data preparation, integration as a service, cloud integration, and ecosystem integration.
During this webinar, Santaferraro will provide insights into new research on modern data practices, including:

Best practices for the modernization journey
Priorities for the selection of next-generation data management tools
Potential for the automation of time-consuming data preparation activities
Trends in the management of complex, multidirectional data pipelines
Future directions for the interoperability of hybrid data ecosystems
The webinar is Tuesday, December 3 at 2:00 p.m. Eastern. Registration is available at http://info.enterprisemanagement.com/moving-from-data-integration-to-interoperability-webinar-pr
About EMA
Founded in 1996, EMA is a leading industry analyst firm that specializes in providing deep insight across the full spectrum of IT and data management technologies. EMA analysts leverage a unique combination of practical experience, insight into industry best practices, and in-depth knowledge of current and planned vendor solutions to help their clients achieve their goals. Learn more about EMA research, analysis, and consulting services for enterprise line of business users, IT professionals and IT vendors at http://www.enterprisemanagement.com.