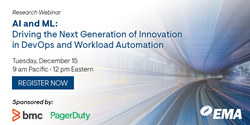 BOULDER, Colo. (PRWEB) December 08, 2020
Enterprise Management Associates (EMA), a leading IT and data management research and consulting firm, today announced it will host a research webinar titled "AI and ML: Driving the Next Generation of Innovation in DevOps and Workload Automation," featuring Steve Hendrick, research director covering application management at EMA.
Artificial intelligence and machine learning are promising technologies that have the potential to revolutionize many aspects of IT. New research from EMA examines the impact these technologies have on IT, specifically DevOps, workload automation, and event and incident management.
During the webinar, Hendrick will provide insights into the research results and discuss:

Enterprises' expectations for AI/ML
What AI/ML solutions will look like
Best practices that will lead to success with AI/ML
The webinar is Tuesday, December 15 at 12:00 p.m. Eastern. Registration is available at https://info.enterprisemanagement.com/ai-ml-driving-the-next-gen-of-innovation-in-devops-and-workload-automation-webinar-pr
The "AI & ML: Driving the Next Generation of Innovation in DevOps and Workload Automation" research report was sponsored by BMC and PagerDuty.
About EMA
Founded in 1996, EMA is a leading industry analyst firm that specializes in providing deep insight across the full spectrum of IT and data management technologies. EMA analysts leverage a unique combination of practical experience, insight into industry best practices and in-depth knowledge of current and planned vendor solutions to help their clients achieve their goals. Learn more about EMA research, analysis and consulting services for enterprise line of business users, IT professionals and IT vendors at https://www.enterprisemanagement.com.