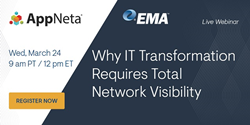 BOULDER, Colo. (PRWEB) March 16, 2021
Enterprise Management Associates (EMA), a leading IT and data management research and consulting firm, today announced it will host a webinar titled "Why IT Transformation Requires Total Network Visibility," featuring Shamus McGillicuddy, vice president of research covering network management at EMA, Joseph Ochs, manager of technical account management at AppNeta, and Alec Pinkham, director of product marketing at AppNeta.
Enterprises have maintained business continuity during the COVID-19 pandemic by accelerating IT transformation. Cloud migration expanded because demand for new digital applications coincided with disruptions to on-premises data center operations. SD-WAN adoption accelerated because enterprises needed to simplify, automate, and secure evolving WAN connectivity requirements. Finally, the global expansion of working from home required network transformation at the user edge.
Any major change to an IT architecture presents significant risk, but that risk can be mitigated with deep, end-to-end network visibility. IT operations teams should have tools in place to deliver this visibility. They can report on the state of infrastructure and services before, during, and after change. This visibility can help set requirements before a transformation project occurs, monitor the changes brought on by the project, and validate that project's success after.
During this webinar, McGillicuddy, Ochs, and Pinkham will discuss:

How to determine whether or not an enterprise has the right visibility for IT transformation
How visibility can improve an enterprises chances of success with projects like SD-WAN, work-from-home, and cloud migration
What kinds of challenges an enterprise might encounter as it supports transformation
The webinar is Wednesday, March 24 at 12:00 p.m. Eastern. Registration is available at https://info.enterprisemanagement.com/why-it-transformation-requires-total-network-visibility-webinar-pr
About EMA
Founded in 1996, EMA is a leading industry analyst firm that specializes in providing deep insight across the full spectrum of IT and data management technologies. EMA analysts leverage a unique combination of practical experience, insight into industry best practices and in-depth knowledge of current and planned vendor solutions to help their clients achieve their goals. Learn more about EMA research, analysis and consulting services for enterprise line of business users, IT professionals and IT vendors at https://www.enterprisemanagement.com.