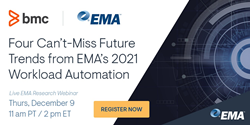 BOULDER, Colo. (PRWEB) November 30, 2021
Enterprise Management Associates (EMA), a leading IT and data management research and consulting firm, today announced it will host a webinar titled "Four Can't-Miss Future Trends from EMA's 2021 Workload Automation Radar Report," featuring Dan Twing, president and chief operating officer at EMA, and Tim Eusterman, assistant vice president of solutions marketing at BMC.
EMA recently released its "Radar Report for Workload Automation: Q4 2021." This new report provides an in-depth look at the latest technological advancements expanding the category from traditional scheduling to application and data workflow orchestration. It also explores four important market trends driving vendor innovation: cloud adoption, containerization, integrations, and SaaS.
During this webinar, Twing and Eusterman will delve into these four market trends and discuss real-world examples of how BMC's leading offers, Control-M and BMC Helix Control-M, are helping deliver digital transformation for companies around the world.
Join this webinar to get highlights from this new research and learn more about:

Simplifying the complexities of cloud adoption with workload automation
Orchestrating containerized workflows
The importance of integrating emerging technologies
How SaaS is redefining workload automation
The webinar is Thursday, December 9 at 2:00 p.m. Eastern. Registration is available at https://info.enterprisemanagement.com/workload-automation-radar-report-webinar-pr
About Enterprise Management Associates (EMA)
Founded in 1996, EMA is a leading industry analyst firm that specializes in providing deep insight across the full spectrum of IT and data management technologies. EMA analysts leverage a unique combination of practical experience, insight into industry best practices, and in-depth knowledge of current and planned vendor solutions to help their clients achieve their goals. Learn more about EMA research, analysis, and consulting services for enterprise line of business users, IT professionals and IT vendors at http://www.enterprisemanagement.com.