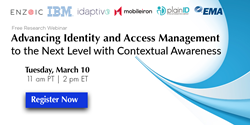 BOULDER, Colo. (PRWEB) March 03, 2020
Enterprise Management Associates (EMA), a leading IT and data management research and consulting firm, today announced it will host a research webinar titled "Advancing Identity and Access Management to the Next Level with Contextual Awareness" featuring Steve Brasen, research director of endpoint and identity management at EMA.
There can be no doubt that business security risks are accelerating. Increased requirements for supporting diverse and remote user devices, coupled with the broad distribution of enterprise applications, data, and IT services across diverse on-premises and public cloud, server, and web hosting environments, are challenging even the most experienced IT and security managers to meet expanding requirement for compliance and security assurance. In particular, traditional methods for controlling access to sensitive business IT resources is no longer considered sustainable, and breach events are becoming more commonplace.
Fortunately, new techniques are being introduced that leverage contextual details collected at the time of each access event to dynamically adapt authentication processes and access policies based on the empirically determined level of risk posed by the activity. This exciting new approach is driving identity and access management advancements, including adaptive authentication, risk-based access, and step-up multifactor authentication.
During this webinar, Brasen will reveal key findings from recently published primary research identifying optimal approaches to utilizing contextually-aware IAM technologies and practices. Topics of discussions will include:

Emerging requirements and challenges to enabling secure access to enterprise apps and data
Methods for rapidly analyzing complex information on access events to determine levels of risk
Securing access to IT resources hosted on public clouds and websites
Reducing IAM efforts and related costs while improving end-user productivity
Determining which contextual elements are the most valuable to monitor and how to make the most of their use
Best practices for adapting authentication and access policies to match the level of potential risk
The webinar is Tuesday, March 10 at 2:00 p.m. Eastern. Registration is available at: http://info.enterprisemanagement.com/identity-and-access-management-2020-webinar-pr
About EMA
Founded in 1996, EMA is a leading industry analyst firm that specializes in providing deep insight across the full spectrum of IT and data management technologies. EMA analysts leverage a unique combination of practical experience, insight into industry best practices, and in-depth knowledge of current and planned vendor solutions to help their clients achieve their goals. Learn more about EMA research, analysis, and consulting services for enterprise line of business users, IT professionals and IT vendors at http://www.enterprisemanagement.com.