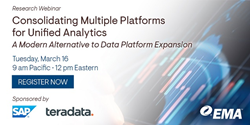 BOULDER, Colo. (PRWEB) March 09, 2021
Enterprise Management Associates (EMA), a leading IT and data management research and consulting firm, today announced it will host a webinar titled "Consolidating Multiple Platforms for Unified Analytics: A Modern Alternative to Data Platform Expansion," featuring John Santaferraro, research director of business intelligence and data warehousing at EMA.
Digital strategies were supposed to transform, and the cloud was supposed to simplify everything. Instead, digital investments bring new data types that are extremely valuable but incompatible with structured data. The cloud and SaaS bring a complex network of data stored across multiple cloud and SaaS providers. As a result, most organizations manage a hybrid data ecosystem, a complex mix of different data management platforms positioned in different locations on-premises and in different clouds.
To address the issue of cost and complexity, EMA recommends moving toward unified analytics architectures. New technology exists to bring the data lake and data warehouse together on a single platform that handles both multi-structured and multi-latency data. Along with recommendations for modernization, this webinar will address:

Best practices for the operation of hybrid data ecosystems
Proven strategies for the move to unified analytics
Cultural and organizational outcomes experienced by industry leaders
Accelerated business value creation with unified analytics
The independent "Consolidating Multiple Platforms for Unified Analytics" research report was sponsored by SAP and Teradata.
The webinar is Tuesday, March 16 at 12:00 p.m. Eastern. Registration is available at https://info.enterprisemanagement.com/consolidating-multiple-platforms-for-unified-analytics-webinar-pr
About EMA
Founded in 1996, EMA is a leading industry analyst firm that specializes in providing deep insight across the full spectrum of IT and data management technologies. EMA analysts leverage a unique combination of practical experience, insight into industry best practices and in-depth knowledge of current and planned vendor solutions to help their clients achieve their goals. Learn more about EMA research, analysis and consulting services for enterprise line of business users, IT professionals and IT vendors at https://www.enterprisemanagement.com