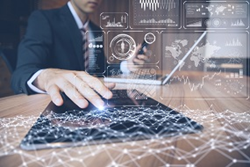 BOULDER, Colo. (PRWEB) September 26, 2018
Enterprise Management Associates (EMA), a leading IT and data management research and consulting firm, today announced it will host a research webinar titled "AIOps and IT Analytics at the Crossroads: What's Real Today and What's Needed for Tomorrow," featuring Dennis Drogseth, VP of research covering IT megatrends, analytics and CMDB systems at EMA.
Drogseth will provide unique insights into how IT organizations are operationalizing their advanced IT analytics investments. What's working, what's not, and what characteristics are consistently associated with successful deployments will be examined in context with analytic priorities in AIOps, big data, end-user-experience analytics, and security-specific analytics. The result will be the industry's first true roadmap showing advanced IT analytics deployment in context with priorities, dependencies, and success rates.
Additionally, Drogseth will provide answers to the following questions:

What use cases are most prevalent, including performance and availability management, change and capacity management, cost optimization, and other options?
To what degree are advanced IT analytics supporting DevOps and SecOps initiatives, as well as IoT requirements?
What are the impacts of cloud and digital transformation?
What are the most critical handshakes between advanced IT analytics and automation? What is the role of AI bots in the broader analytics landscape?
What deployment strategies are most effective and why?
What are the benefits? What are the roadblocks? And what technologies are most needed?
The webinar is Wednesday, October 10 at 1:00 p.m. Eastern. Registration is available at http://info.enterprisemanagement.com/aiops-it-analytics-webinar-pr
About Enterprise Management Associates (EMA)
Founded in 1996, EMA is a leading industry analyst firm that specializes in providing deep insight across the full spectrum of IT and data management technologies. EMA analysts leverage a unique combination of practical experience, insight into industry best practices, and in-depth knowledge of current and planned vendor solutions to help their clients achieve their goals. Learn more about EMA research, analysis, and consulting services for enterprise line of business users, IT professionals and IT vendors at http://www.enterprisemanagement.com.