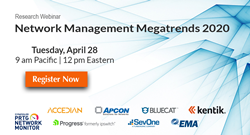 BOULDER, Colo. (PRWEB) April 14, 2020
Enterprise Management Associates (EMA), a leading IT and data management research and consulting firm, today announced it will host a research webinar titled "Network Management Megatrends 2020," based on the research report written by Shamus McGillicuddy, vice president of research, network management, at EMA.
EMA has been publishing the definitive benchmark study of enterprise network management practices since 2008. The biennial Network Management Megatrends research tracks how network engineering and operations tools and practices evolve in the face of major technology and business trends.
During this webinar, McGillicuddy will explore the results of this research, including:

How and why network teams are collaborating more with their peers in the security team
How the Internet of Things impacts the network manager's job
How SDN in the data center puts new demands on the network management toolset
Why cloud provider flow logs and streaming network telemetry are transforming network management
How enterprises are trying to end decades of network management tool sprawl
The webinar is Tuesday, April 28 at 12:00 p.m. Eastern. Registration is available at:
http://info.enterprisemanagement.com/network-management-megatrends-2020-webinar-pr
About EMA
Founded in 1996, EMA is a leading industry analyst firm that specializes in providing deep insight across the full spectrum of IT and data management technologies. EMA analysts leverage a unique combination of practical experience, insight into industry best practices and in-depth knowledge of current and planned vendor solutions to help their clients achieve their goals. Learn more about EMA research, analysis and consulting services for enterprise line of business users, IT professionals and IT vendors at http://www.enterprisemanagement.com.