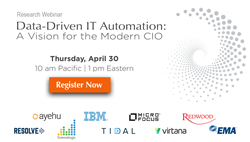 BOULDER, Colo. (PRWEB) April 15, 2020
Enterprise Management Associates (EMA), a leading IT and data management research and consulting firm, today announced it will host a research webinar titled "Data-Driven IT Automation: A Vision for the Modern CIO," featuring Dan Twing, president and chief operating officer at EMA, and Dennis Drogseth, vice president of research, IT megatrends, analytics and CMDB systems at EMA.
Based on new, global research from EMA, this webinar will provide a look at IT automation technologies in terms of what is deployed, what is most valuable, and what is lacking in today's solutions. How automation technologies are becoming more unified, the impacts of an automation center of excellence, and a look at the handshake between automation, AIOps, and IT analytics will also be examined.
During the webinar, Twing and Drogseth will discuss these topics in more depth, as well explore:

Where IT organizations are today in adopting a wide range of automation technologies, and what is most critical for the future.
The chief obstacles to making automation work, in terms of use-case specifics, as well as broader strategies to unify automation across use cases.
How and why AIOps and IT analytics are beginning to drive automation more pervasively. Ninety percent of EMA respondents viewed AI/analytics with automation as a "high" or "extremely high" priority.
The factors most contributive to enabling an effective automation strategy, both by use case and for a unified approach across use cases—including technology choices, organizational dynamics, best practices and integrations.
Attendees will also get insights into automation priorities across four critical use cases: (1) incident, problem and availability management, (2) configuration, change and capacity management, (3) DevOps, and (4) application performance and workload optimization.
The webinar is Thursday, April 30 at 1:00 p.m. Eastern. Registration is available at http://info.enterprisemanagement.com/data-driven-it-automation-webinar-pr
About EMA
Founded in 1996, EMA is a leading industry analyst firm that specializes in providing deep insight across the full spectrum of IT and data management technologies. EMA analysts leverage a unique combination of practical experience, insight into industry best practices and in-depth knowledge of current and planned vendor solutions to help their clients achieve their goals. Learn more about EMA research, analysis and consulting services for enterprise line of business users, IT professionals and IT vendors at http://www.enterprisemanagement.com.