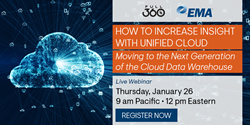 BOULDER, Colo. (PRWEB) January 19, 2021
Enterprise Management Associates (EMA), a leading IT and data management research and consulting firm, today announced it will host a webinar titled "How to Increase Insight with Unified Cloud Analytics: Moving to the Next Generation of the Cloud Data Warehouse," featuring John Santaferraro, research director of business intelligence and data warehousing at EMA, and Rohit Amarnath, chief technology officer and founder of Full360.
Managing a separate data lake and data warehouse is cumbersome. Fortunately, modern technology makes it simple to unify an analytics program on a single platform in the cloud. The ability to handle multi-structured data, multi-latency feeds, and multi-use analytics streamlines the delivery of analytics.
During this webinar, Santaferraro and Amarnath will provide insights into the power of unified cloud analytics, specifically:

How moving to unified cloud analytics can save time and money
How to make the move to unified cloud analytics simple
How to immerse unified cloud analytics into your business
How to create immediate value from unified cloud analytics
The webinar is Tuesday, January 26 at 12:00 p.m. Eastern. Registration is available at https://info.enterprisemanagement.com/how-to-increase-insight-with-unified-cloud-analytics-webinar-pr
About EMA
Founded in 1996, EMA is a leading industry analyst firm that specializes in providing deep insight across the full spectrum of IT and data management technologies. EMA analysts leverage a unique combination of practical experience, insight into industry best practices and in-depth knowledge of current and planned vendor solutions to help their clients achieve their goals. Learn more about EMA research, analysis and consulting services for enterprise line of business users, IT professionals and IT vendors at https://www.enterprisemanagement.com