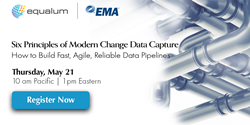 BOULDER, Colo. (PRWEB) May 13, 2020
Enterprise Management Associates (EMA), a leading IT and data management research and consulting firm, today announced it will host a webinar titled "Six Principles of Modern Change Data Capture: How to Build Fast, Agile, Reliable Data Pipelines," featuring John Santaferraro, research director of business intelligence and data warehousing at EMA, and Nir Livneh, founder and chief executive officer at Equalum.
The shift to digital business models has increased the potential value of streaming data. The need for immediate, intelligent response to business events is paramount. Organizations that utilize modern change data capture technology to acquire, manipulate, transform, and augment streaming data will gain a competitive advantage over those using legacy platforms.
Older data ingestion technology originally built for on-premises, batch processing cannot keep up with the speed, agility, and reliability required for modern, real-time applications. Additionally, the move to SaaS applications and the cloud require new approaches to change data capture, data lake ingestion, and data warehouse management.
During this webinar, Santaferraro and Livneh will discuss these topics in-depth, as well as provide insights into:

Six foundational principles of streaming change data capture that guide the modernization journey
How modern architectures combine streaming data augmentation and transformation to increase the value of every transaction
Real-world examples of how speed, agility, and reliability translate into faster time to market, lower cost, and competitive advantage
The webinar is Thursday, May 21 at 1:00 p.m. Eastern. Registration is available at https://info.enterprisemanagement.com/six-principles-of-modern-change-data-capture-webinar-pr
About EMA
Founded in 1996, EMA is a leading industry analyst firm that specializes in providing deep insight across the full spectrum of IT and data management technologies. EMA analysts leverage a unique combination of practical experience, insight into industry best practices and in-depth knowledge of current and planned vendor solutions to help their clients achieve their goals. Learn more about EMA research, analysis and consulting services for enterprise line of business users, IT professionals and IT vendors at http://www.enterprisemanagement.com.